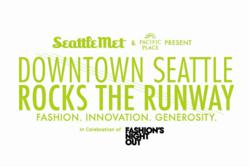 Net proceeds from ticket sales will fund college scholarships for young women through the O Wines Opportunity for Success Scholarship Program.
Seattle (PRWEB) August 30, 2012
All around the globe, fashion lovers will unite Thursday, September 6th in celebration of Fashion's Night Out (FNO), to shop the latest in fall fashion and support worthy causes. Seattle's festivities take place from 5:30 p.m. to closing with many retailers observing extended hours throughout the retail core, in shops and at Pacific Place where guests will view a Seattle first: A large-scale, collaborative charity benefit fashion show featuring more than 70 looks from the city's downtown department stores and boutiques.
DOWNTOWN SEATTLE ROCKS THE RUNWAY
Thursday, September 6th – 5:30 p.m. to 9 p.m.
In celebration of Fashion's Night Out on September 6th, Downtown Seattle's Pacific Place and Seattle Met magazine will present "Downtown Seattle Rocks the Runway" with more than 70 of the latest fashion looks for fall. The Pacific Place Atrium at 600 Pine Street will be transformed into a runway that will give 250 seated ticket holders a close-up view of some of Seattle's finest autumn clothing and accessories, while hundreds more will enjoy unobstructed views from the balconies above. The event is made possible, in part, by event sponsor Downtown Seattle Association.
Let the Festivities Begin!
5:30 p.m.
The festivities kick off in the Pacific Place Atrium at 600 Pine Street with Seattle Met's "red carpet" photos for everyone attending the event, dressed to impress. Ticket holders will also enjoy cocktail receptions and the chance to win prizes, while they and the public will get to enjoy special events taking place in and around the stores and restaurants at Pacific Place before and after the runway show.
Roche Bobois lounge opens for VIP ticket holders on the second floor of Pacific Place, with a cocktail reception featuring fine wines from O Wines, signature Skinny Girl cocktails and appetizers, courtesy of Pacific Place restaurants: Gordon Biersch Brewery Restaurant, Il Fornaio Ristorante, Johnny Rockets, Mexico Cantina y Cocina, Pike Place Chowder, Thai Ginger and Wasabi at pnk Restaurant & Ultra Lounge. General admission ticket holders also will enjoy their own cocktail reception on the second floor of Pacific Place with wine, cocktails and appetizers.
The evening of fashion also includes participation in the Seattle Style Search, sponsored by the Downtown Seattle Association's Metropolitan Improvement District. Presented by Geoteaming and open to the public, the Seattle Style Search is a smart phone scavenger hunt that will begin at 5:30 p.m. with a download of the mobile app – goosechase from the android and iphones app stores. The app will provide you with a list of fashion missions. Complete the missions to win points. Grab up to three of your friends and be part of the paparazzi to capture the night's best fashion looks with your smart phone. Compete with other fashionistas and the top team of the night will win prizes. One grand prize will be awarded to the top team and a second will be given by random drawing. The first 50 people to complete the Seattle Style Search will receive swag bags stocked with fashionista prizes. Like us on Facebook for all of the details. https://www.facebook.com/SeattleCelebratesFashionsNightOut.
7 p.m.: Downtown Seattle Rocks the Runway with a major fashion show of 70-plus autumn looks from participating downtown retailers, including Nordstrom, Macy's, Mario's, Barneys New York, Alhambra, True Religion Brand Jeans, Eileen Fisher, Baby & Co., OSKA, sandylew, The Finerie and Karan Dannenberg Clothier. In addition, SEVEN Salon will style hair and Gene Juarez Salons will provide makeup for the runway models. Poison Waters and Seattle Met's own Style Editor, Laura Cassidy, will be on hand to entertain and emcee the runway show.
Admission: There are two different options to attend this event: $75 general admission and $125 VIP packages. The general admission ticket holders will receive seated access to the show, swag bags and appetizers courtesy of Pacific Place restaurants. VIP patrons get premier seating, deluxe swag bags, access to the Roche Bobois lounge and reception and valet parking courtesy of Pacific Place. In addition, ticket holders can enter-to-win a $1,000 Pacific Place shopping spree and other great prizes. Tickets may be purchased through the event web site, seattlemet.com/runway.
Charity Beneficiary: Net proceeds from ticket sales will fund college scholarships for young women through the O Wines Opportunity for Success Scholarship Program.
Extended Shopping Hours: At Pacific Place, Barneys New York will remain open until 10 p.m. for post-event shopping with the center's restaurants and club closing still later.
Those partaking in "Downtown Seattle Rocks the Runway" and other Fashion's Night Out events in Downtown Seattle are encouraged to use the FNO social media hash tag, #FNOSEA. We'll see you there!
About Fashion's Night Out
Fashion's Night Out is an unprecedented global initiative created in 2009 to celebrate fashion, restore consumer confidence, boost the industry's economy during the recession, and put the fun back in shopping. In the United States, the program is a collaboration between American Vogue, the Council of Fashion Designers of America, NYC & Company, and the City of New York.
Pacific Place Launches Weekend Filled With Fashion, Food & Fun
ALL FOR FALL
September 6th - 9th, 2012
Pacific Place continues the celebration all weekend with in-store events and specials from gifts with purchase to discounts off regular prices. Shoppers who collect $100 in same-day receipts during the four-day promotion will receive a free Pacific Place $10 gift card, while shoppers collecting $300 in same-day receipts will receive a free Pacific Place $30 gift card – both of which are good for three months following activation and are good for use anywhere in Pacific Place. Customers are limited to one promotional gift card per person per day; receipts must be from one shopper only and cannot be combined from multiple guests to achieve a threshold for the gift with purchase.
Thursday, September 6th – Saturday, September 8th: Pacific Place shops open from 10 a.m. to 9 p.m.
Sunday, September 9th: Pacific Place shops open from 11 a.m. to 7 p.m.
Pacific Place features 50 shops, restaurants and an 11-screen movie theatre at Sixth Avenue and Pine Street in downtown Seattle. Parking beneath Pacific Place is abundant, well-lighted and secure. For more information, call (206) 405-2655, visit the web site at pacificplaceseattle.com, find Pacific Place Seattle on Facebook and follow on Twitter @Pacific_Place.
SagaCity Media Inc., parent¬ company of Seattle Met, Portland Monthly, Aspen Sojourner, Park City Magazine, Vail-Beaver Creek Magazine, Portland Bride & Groom, Seattle Met Bride & Groom, Out Aloha, Out City and 18 other custom and editorial publications. Seattle Met and Portland Monthly are both currently among the top 10 biggest-selling city magazines in the nation, and are the no. 1 selling magazines in their respective markets, over all national and regional titles.