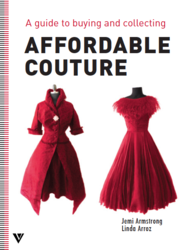 Los Angeles, CA (PRWEB) August 30, 2012
From Paris to Peoria, couture is a hot topic. Pop culture and media drive the ongoing fascination with luxurious clothing via music, film, television and the celebrities who wear the clothes. For the mass audience, couture is perceived as both unattainable and aspirational. Now the rarified world of designer clothing is demystified in Affordable Couture, a comprehensive guide to the world of couture and designer resale from Vivays Publishing, by authors Jemi Armstrong and Linda Arroz.
Aimed at anyone interested in designer fashion and fashion as art, Affordable Couture is a practical compendium created to give collectors and enthusiasts a better understanding of the high end designer market and how to purchase real couture fashion, affordably. The elegantly crafted book is chock full of engaging illustrations and photographs, accompanied by informative commentary.
Concisely organized in seven chapters, Affordable Couture includes a brief history and overview of couture, along with a global shopping reference section. In addition, the book dispenses advice on key pieces every wardrobe should have and useful tips on garment care.
Individuals who want to know and understand more about buying and collecting high quality designer and couture pieces will benefit from Affordable Couture. The authors seek to educate readers on the varied and confusing topics within the couture resale world such as how it operates, how to understand the jargon, and how to navigate the often idiosyncratic rituals practiced.
Since the early nineties, couture garments and accessories have been appearing in museums and auction houses around the world, which translates into more competition for the best pieces. Along with the global appreciation of couture, counterfeiting has escalated. The authors address this growing phenomenon and provide detailed information on how to spot a fake. Affordable Couture is a timeless text about negotiating the influences of emotion, budget, and taste in order to build a wardrobe that has genuine iconic style and longevity.
Look Inside the Book: http://www.vivays-publishing.com/images/issuu/Affordable_Couture_look_inside.pdf
Blog: http://www.affordablecouturethebook.com
Twitter @AffordCouture
About the Authors
Jemi Armstrong, M.Sc.
Jemi Armstrong is a Los Angeles-based fashion illustrator, author and professor. Her book credits include co-author and illustrator Pencil to Pen Tool: Creating And Understanding The Digital fashion Image; Fashion Design Drawing Course; and I Sketch Therefore I Am. She holds a master's degree in science and three undergraduate degrees in fashion and art.
http://penciltopentool.tripod.com
Linda Arroz
Linda Arroz is a noted speaker, writer and consultant whose expertise encompasses fashion, beauty, wellness and technology. Twice designated one of the 25 Most Powerful Players in the fashion industry by the California Apparel News, Ms. Arroz has appeared on hundreds of TV shows including Good Morning America and Entertainment Tonight. She is a co-founder of Makeover Media, a boutique agency in Los Angeles that offers public relations, social media and strategic planning.
http://lindaarroz.wordpress.com/about
About Vivays Publishing
London-based Vivays Publishing was born in the autumn of 2010 when four publishing professionals with 100 years of international experience behind them met to discuss starting up a new illustrated publishing company. The first five titles were launched at the London Book Fair 2011, little more than six months after the company started. Vivays is supported by Russian publisher Sergey Ivlev of Moscow-based Art-Rodnik, one of the top ten independent publishing houses in Russia. Today, with a catalogue of 31 titles--23 already published and eight planned for the second half of 2012--Vivays Publishing is establishing a reputation as the new global player to watch.
http://www.vivays-publishing.com