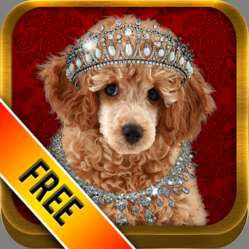 Belfast, ME (PRWEB) August 30, 2012
Is your cat a queen? Is your dog a real prince? Now there is a free app that can show the world their royal side. Pet Royals by CAT Game Apps LLC is a photo app that lets users dress their pets in everything from crowns to crown jewels. For those who prefer an Egyptian twist, there's an upgrade to add accents from the land of the Pharaohs.
The app is easy to use while being incredibly versatile. Users simply take a photo of their pet's face with their Apple device, choose the accessories they want to add to the photo and adjust the size and orientation of the accessories using their fingers. Voila! Instant pet royal. And if their royal pet has something to say, adding a text bubble is simple. There's also a drawing tool to draw on some eyeliner or other accent?
When the image is complete, owners have several options like saving it to their camera roll, emailing it to a friend, sharing it on Facebook or Instagram or posting it as a meme to Pinterest. Users can also upload the photo to Shutterfly to make gifts, cards, invitations or a royal calendar. What pet lover would not love a photo mug with images of their royal pet?
The basic version of Pet Royals is free and is currently available on iPhone and iPad.