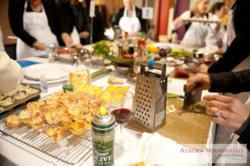 It's an honor to be in the company of the some of the nation's top entrepreneurs and booming businesses.
San Francisco, CA (PRWEB) August 30, 2012
The country's premier corporate team building and private cooking party company, Parties That Cook®, earned a spot on the annual Inc. 500|5000 list, ranking among the top 5,000 fastest-growing private companies in the United States. Qualifying for the first time with 2011 revenue exceeding Inc. 5000's $2 million requirement, Parties That Cook demonstrated 47% growth over the last three years, surpassing other top brands like Levi Strauss and Kimpton Hotels.
"We are delighted and proud to have been included in the 2012 list," said Parties That Cook Founder and CEO, Bibby Gignilliat. "It's an honor to be in the company of the some of the nation's top entrepreneurs and booming businesses."
Honorees of the prestigious 2012 list not only survived, but thrived during three of the most challenging years the economy has faced in recent memory. The companies on this year's list report having created over 400,000 jobs in the past three years, and aggregate revenue among the honorees reached $299 billion. Gignilliat says, "Parties That Cook's agility and passion for excellence enabled us to stay ahead in a changing landscape." Adapting to changes in the market, the company developed strategic partnerships, employed cost effective marketing programs and streamlined operations in order to invest in growth strategies like launching in a 4th market and increasing sales team headcount by 25%.
With the economy on the rise, Parties That Cook plans to develop two additional products for the 2012 holiday event season. Current offerings include premium events like "Amazing Kitchen Race", a GPS scavenger hunt and Iron Chef cooking competition, and company off-sites like "Cooking Farm-to-Table" where groups come together to cook on a working farm. Since 2010, Parties That Cook has launched in two new Northwestern markets - Seattle and Portland - and intends to expand into 3 additional U.S. markets in the next 5 years.
The complete Inc. 500|5000 list, including company profiles and an interactive database that can be sorted by industry, region, and other criteria, can be found at http://www.inc.com/5000.
About Parties That Cook
Parties That Cook stages lively, interactive cooking parties and corporate team building events in private homes and professional kitchens throughout the San Francisco Bay Area including San Jose and Wine Country, Chicago, Seattle, and Portland. Founder & CEO, Bibby Gignilliat, pioneered the mobile group cooking party concept in 1999, and extended the company's hands-on culinary events to include a wide array of corporate team building activities, cooking parties and cooking classes. Parties That Cook is proud to be a Certified B Corporation. For more information, please visit http://www.PartiesThatCook.com or call 1-888-907-2665.
###