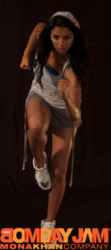 It's a day of learning, but also the most fun you will have at any certification.
Sunnyvale, CA (PRWEB) August 31, 2012
Mona Khan Company today announced the second Bombay Jam® certification training on Sunday, September 16th, 2012 at Club Sport in Fremont, California. The fitness industry's only structured Bollywood program has been available since March 2012 to anyone who is looking for an incredibly fun, unique and fresh workout to teach at a studio or gym. Powered by the explosively fun, globally appealing Bollywood culture, Bombay Jam® is a dance based total body workout that is effective, safe, easy to follow and designed with authentic Bollywood dance flavor.
Mona Khan Company, the creator of Bombay Jam®, has worked with certified fitness professionals to ensure the safety and effectiveness of the program. The company is recognized by AFAA (Aerobics and Fitness Association of America) as a Continued Education Provider. AFAA instructors will earn 5 CEUs after successful completion of the Bombay Jam® certification training program. Mona Khan Company has also applied to become an ACE (American Council on Exercise) Continuing Education Provider.
More about Bombay Jam®
Bombay Jam® incorporates cardio and toning routines into one action packed total body workout, and routines are set to custom music mixes created by Bombay's hottest DJs. The music is a blend of Bollywood and mainstream Western Top 40 tracks, resulting in one-of-a-kind mixes that are refreshing, energizing and universally appealing. Watch a video of Bombay Jam® in action.
The cardio routines incorporate basic, easy to follow dance fitness moves full of Bollywood flare, and the toning segment focuses on sculpting long, lean muscle. Novices and fitness veterans alike are welcome in Bombay Jam® - intensity can be easily modified to match the individual's fitness level. "Bombay Jam® is a great total body work out that packs it all into a 60 minute class" said Pam Ryan, Fitness Director at Club Sport in Fremont, CA. "It has given a new ethnic element to our group fitness class schedule, but it is so much fun that it appeals to all races, ages, and both sexes. Our members are constantly requesting more classes of Bombay Jam®!"
About Mona Khan Company
Headquartered in Sunnyvale, CA, Mona Khan Company offers Bollywood dance and fitness classes in various locations throughout the Bay Area. The company is a leader in providing the best of Bollywood style entertainment through its classes and its elite team of professional dancers. Bombay Jam® is Mona Khan Company's Bollywood dance fitness total body workout. For more information about Bombay Jam®, please email or visit Mona Khan Company's website.