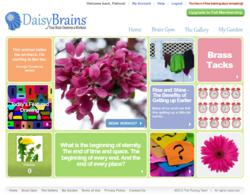 Clinically-designed brain workouts are an effective way to challenge the minds of women everywhere. Brain games are beneficial and fun.
Richmond, VA (PRWEB) August 30, 2012
Brain training is more than a buzz word. New research shows that exercising our brain regularly helps to keep our mind sharp, manage stress and improve our mood. Our brain has the ability to generate new neurons throughout adulthood when the brain is given proper exercise and nutrition. DaisyBrains.com is an exciting way to exercise memory, problem-solving and creative thinking skills.
Today women are being diagnosed with Alzheimer's disease at twice the rate of men. The ability to live a productive, independent life is almost solely determined by our ability to keep our mind sharps as we age. DaisyBrains.com is rolling out new cognitive games and brain exercises with women's health in mind, encouraging women to stay motivated to workout their brains.
Grounded in neuroscience, DaisyBrains.com offers new content 365 days a year. "We are thrilled that women are passionate about exercising their brains. We carefully design each brain exercise to challenge thinking skills across key cognitive areas. Our users report that they feel sharper and more confident after using Daisy Brains," says Claire Herring, speech-language pathologist and co-creator of Daisy Brains.com.
Unlike other brain training systems on the market, Daisy Brains includes creativity exercises as well as traditional logic and memory exercises. "We have hundreds of beautiful displays in our creativity gallery from Daisy Brains members worldwide," says Gemma Brooks, co-creator of Daisy Brains.
People can sign up for a free trial membership and explore the hundreds of brain activities. Members may then select a paid subscription to enjoy daily inspiring brain exercises. As members improve, they earn points and move up levels in Daisy Brains.
Recently launched in February 2012, Daisy Brains has seen strong interest from consumers. Daisy Brains continues to showcase games on RealSimple.com as part of the Mind and Mood area. Daisy Brains is headquartered in Richmond, Virginia. For more information please visit http://www.DaisyBrains.com.