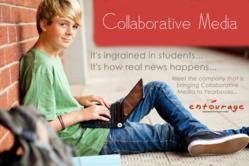 We believe that collaborative media will create even more excellence in yearbooks.
(PRWEB) August 30, 2012
Entourage Yearbooks has created an all new online yearbook experience to enhance the yearbook creation process. With Entourage's collaborative tools, yearbook advisors and staff members will create yearbooks with less stress, and more resources.
"We identified the need for collaboration in the yearbook process from talking to our customers," said Entourage Yearbooks President, Elias Jo. "Our customers kept asking to see ideas and designs from other school's books, so we've created a way for all of our customers to network with each other."
Entourage's new collaborative tools are broken down into four sections, Explore, Discuss, Learn, and Share. As customers take advantage of this new yearbooking network they will be able to explore thousands of templates and yearbook ideas, discuss yearbook topics with yearbook professionals and other advisors and staffs, get more thorough online training, and have the opportunity to share tips, tricks, and ideas with the entire Entourage community.
Entourage Explore provides libraries of hundreds of templates, book examples, and themes from all types of schools, elementary through high school. Customers can rank templates and theme ideas, search based on ratings and popularity, and browse the entire library of yearbooks and yearbook templates.
Entourage Discuss is Entourage's online chat feature. Discuss allows users to work together with their own group, with Entourage professionals, or with other groups on creating pages and getting feedback online and in real time. Discuss also offers a forum for advisors to reach out and support each other.
Entourage Learn features libraries of online videos and learning curricula ranging in topics from organizing staff, to collecting photos, to designing outstanding yearbook pages. There are topics for all ages, and all ability levels. Entourage customers can sign up for online training webinars, or read through an online curriculum. Yearbook advisors can assign online courses and quizzes to their students and get the whole staff "Yearbook Certified"!
The new Entourage tools also feature collaborative photo management. Users can import images from Facebook and Picasa, and tag them on the Entourage website. Tagged pictures are tracked by the Entourage yearbook software making full coverage of the student population easy to achieve.
"At Entourage, we believe that collaborative media will create even more excellence in yearbooks," said Jo. "We are proud to be a leader in bringing the collaborative media platform to yearbooks."
To learn more about Collaborate from Entourage Yearbooks visit the website at http://www.entourageyearbooks.com.