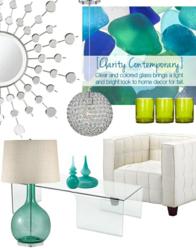 A spacious and airy style that's perfect for small spaces.
Los Angeles, California (PRWEB) August 31, 2012
Lamps Plus, the nation's largest specialty lighting retailer, has named "Clarity Contemporary" the top home decorating trend for fall 2012. Combining clear and colored glass furniture and lamps with brightly colored accent pillows and textiles, the style appeals to a consumer base that has grown increasingly interested in small-space living.
"Our customers have been recently asking for advice on how to decorate smaller homes and apartments," explains Angela Hsu, Vice President of Internet Marketing for Lamps Plus. "Spacious and airy by design, the Clarity Contemporary style directly addresses this American trend toward downsizing."
Michael Murphy, Design Content Producer with Lamps Plus, elaborates, "Clarity Contemporary is about creating clear and open spaces in your home. It's a bright cheery look for a clutter-free living room, and yet it's one that can hold up all year round." Four main components are key to the style: clear and colored glass lighting fixtures and furniture, metallic finishes, neutral bases and bright accents.
Murphy explains on how to mix and match to get the look. "Start with a coffee table, lamp or chair in colored or completely clear glass. Next, add modern lighting fixtures and mirrors with metallic finishes for extra luster." These items are the basis of the Clarity Contemporary look, and are the main reason why it's so well-suited to smaller spaces. "Glass and reflective metals are perfect for apartments, lofts and small homes. Because you can see through the furniture pieces, they don't hold much visual weight. As a result, your space feels larger and more open."
To complete the style, Murphy adds a few finishing touches. "Despite the calm and cohesive look of the transparent surfaces, there's an element of contrast at play too. Your basic, large furniture pieces will be in neutral colors like cream or white, but choose your favorite accent pillows, textiles or vases to provide a bright pop of color." In this way, the Clarity Contemporary style lets people incorporate their favorite keepsakes into a stylish new, modern living room.
To further help customers and DIY decorators get the Clarity Contemporary look for themselves, the company has produced a "Get the Look" video for the Lamps Plus YouTube Channel, a channel dedicated to providing viewers with the latest home decor tips and interior design trends.
About Lamps Plus
For more than 30 years, Lamps Plus has been synonymous with excellence in the lighting retail industry. Established in 1976, Lamps Plus is the nation's largest specialty lighting store, with more than 40 superstores throughout the western United States. Together with their retail lighting stores and online business, Lamps Plus serves customers nationwide with the largest selection of functional and decorative lighting fixtures, accessories, furniture and home decor. This selection includes hundreds of products available exclusively from Lamps Plus. Services include in-home lighting consultations, in-store lighting workshops and installation from expert, licensed electricians. American Lighting Association