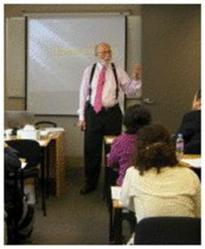 Affiliates are trained online and are provided an opportunity for regular supervision and mentoring in accordance with guidelines from the Biofeedback Certification International Alliance (BCIA).
(PRWEB) August 31, 2012
The best health clinics are always looking for new ways and new technologies to help serve their clients. The Biofeedback Federation CIC has just created a new version of Dr. Swingle's ClinicalQ and BrainDryvr software for remote training along with an affiliate program for training health professionals and educating clients.
Designed by Elizabeth Tegan, MSRNCS and Sandy Jones, the new software offers professionals the opportunity to bring neurotherapy to their communities and help to overcome limited access to a valuable therapeutic approach. When asked why he felt the need to create this software Dr. Swingle replied, "Many of the clients treated at our Vancouver clinic travel great distances to receive treatment for a variety of serious disorders. After treatment was completed in the clinic, maintenance of the gains achieved was a challenge because of limited access to qualified neurotherapists. The remote training software satisfies this need for not only providing maintenance but also ongoing treatment for those conditions that require extended care such as autism, age related decline and severe learning disorders."
Mark Schwartz, the program director and spokesperson for the London based federation, said, "Our goal is to nurture and encourage community health through our "Learn from the Best" program. Part of this program is the education and training of health professionals that affiliate with the BFE Swingle team. These affiliates learn how to use of the specialized software based on Dr. Swingle's methods."
According to Mr. Schwartz, "Access to learning has never been easier. Affiliates are trained online and are provided an opportunity for regular supervision and mentoring in accordance with guidelines from the Biofeedback Certification International Alliance (BCIA). Professional users of the new software program can benefit from weekly online "case conferences" with one of Dr. Swingle's associates. There are also monthly online consultations with Dr. Swingle during which he addresses challenging cases. His expert opinion is based on the successful treatment of a wide range of disorder such as ADHD, depression, anxiety, autism, sleep disorders and chronic fatigue."
The Swingle Remote Training Program facilitates professional treatment of a wide range of disorders previously limited to clinics in large metropolitan centres. Licensed health professionals can offer this additional service to their clients who can begin to receive quality extended treatment at home. Instead of traveling to the clinic, the clinician comes to them over the internet and sees the changes to their brainwaves as they occur in real time. Clients can feel confident knowing the sessions are always "attended" by qualified personnel.
Interested healthcare professionals can learn more about Dr. Swingle's methods at a number of upcoming workshops in the US and Canada or by attending a live webinar.
ClinicalQ and Braindriving
Vancouver, Canada – October 19-21 and 26-28, 2012
Dr. Swingle's will be presenting two upcoming workshops in Vancouver: a fundamental workshop on "ClinicalQ and Braindriving: Fundamental Neurotherapy for Professionals"(October 19 - 21), and an advanced workshop on "ClinicalQ, Braindriving and Synergic Therapies - Advanced Neurotherapy Training for Professionals"(October 26 - 28).
NCBS Annual Meeting - November 2-4, 2012
Greensboro, NC — Clarion Greensboro Airport
http://www.ncbiofeedback.org/conference2012.htm
Kids TLC - December 7-9, 2012
Olathe, KS – (near Kansas City)
http://kidstlc.org/
Dr. Swingle's 2012 Webinars
There are two upcoming webinars scheduled for this fall: Sleep Disorders and Chronic Fatigue on October 17th and Treatment of Emotional Difficulties in Children and Their Effect on Learning on November 21st.
About the BFE
The BFE-LFB program provides continuing education via conferences, seminars, workshops, internet courses, and software for professionals around the world. Content is developed independently by International Research & Education Project teams. Financial support comes from the Biofeedback Federation CIC, a non-profit Community Interest Corporation located in the UK. For more information, visit the BFE Online Shop. The next BFE Annual Conference is scheduled to take place September 11-15, 2012 in Rzeszów, Poland.
Contact:
Carol Meyers
BFE Education Manager
http://www.bfe.org