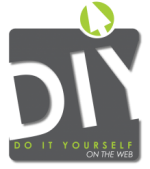 Do it yourself and stop getting ripped off!
(PRWEB) August 29, 2012
Anyone who is desperate to create their own website but gets flustered by the mere mention of the term 'code' may wonder "where do I begin?" DIYOnTheWeb.com has been created to provide a resource that is easy to understand so that anyone interested can have an equal opportunity to start making money on the web.
Free and Easy To Understand Tutorials
DIY On The Web provides the tools needed for anybody to become an online entrepreneur at no cost. Through their detailed articles and in-depth videos, a visitor to http://www.diyontheweb.com can learn the ins-and-outs of popular blogging programs like WordPress and website hosts like BlueHost. Most sites that impart this level of knowledge usually charge for the privilege but DIY On The Web remains free of any charges or fees. The site is all about giving back and letting everyday people compete on the same level as those who have been doing this professionally for years. Founder Jerry Li couldn't have put it better when he said, "do it yourself and stop getting ripped off."
Helping You Understand the YouTube Partnership Program
If one's passion is creating original video content there has never been a better time to enhance their income by doing what they love. Through YouTube's Partnership Program regular people have the opportunity to make real money by filming videos and allowing YouTube to sell advertisements before them, giving a percentage for the amount of views the videos receive. Unfortunately the entire process can be difficult for those who aren't yet familiar with it; this is why http://www.diyontheweb.com has written tutorials on how to take full advantage of the YouTube Partnership Program.
Earn Income Using Google AdSense
The main source of almost every internet DIYer's income is Google AdSense and if they're not familiar with it then it can be difficult to fully maximize their potential income. DIY On The Web offers easy to understand guides that even the most novice website creators can follow along with. Many people are put off of using Google AdSense by what they perceive to be a difficult and complicated process, but the people at DIY On The Web have streamlined the entire method so that anybody can start earning money from their webpage immediately.
ABOUT DIY ON THE WEB
Founded by an internet entrepreneur who is now trying to teach others the skills that made him so successful, DIYOnTheWeb.com is the only site required for every resource needed to build your own website. DIY On The Web is proud to provide free and easy to understand articles and videos that help to teach people how to truly "do it yourself on the web."