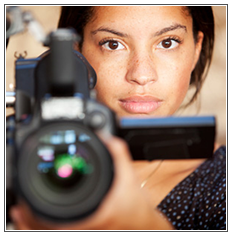 "Our goal in producing these free videos is to help Canadian businesses experience first-hand how easy they are to create."
Gormley, ON (PRWEB) August 30, 2012
Twelve lucky businesses in York Region are about to get a free marketing boost as CanadaOne.com announces that it will give-away up to 12 business videos valued at $18,000 at the upcoming E-Business Boot Camp being held in Georgina, Ontario on September 20, 2012.
In three highly interactive sessions, businesses that enter the video stream at the conference will learn hands-on how to produce professional business videos from scratch. Participants will go through the complete production process and will experience everything from writing scripts and using a tablet as a teleprompter to actually shooting green screen videos that will then be edited using professional video editing software.
At the end of the session, each participating business will have an understanding of the basics of producing professional quality videos, as well as their own initial video they can use in any of their marketing channels.
"Many businesses realize that there are really fun, low-cost ways they can boost their marketing efforts, yet find it difficult to try new things without first understand what is involved overall," says Julie King, co-founder and editor of CanadaOne.com. "Our goal in producing these free videos is to help Canadian businesses experience first-hand how easy they are to create, so that hopefully they will not only use the video they produce on the day, but will also feel comfortable using videos in their business after the event."
In addition to the main video stream, a separate video marketing workshop will be open to other conference attendees that will cover getting videos online, creating a custom YouTube channel and video case studies.
The one-day conference is part of a conference series being organized by a group of partners in the northern six (N6) communities in York Region, Ontario that include the York Small Business Enterprise Centre (YSBEC), the Chambers of Commerce in each of the N6 communities, the Business Knowledge Initiative (BKi) and the regional Ontario Network of Excellence (ONE) centre, VentureLab.
CanadaOne is a signature sponsor of the conference series and is excited to participate in the learning component as well. CanadaOne's 'Business Knowledge Engine' is a searchable article library that includes several how-to articles on the topic of producing online videos, so the extension to the conference series is a natural fit.
"We have been educating Canadian entrepreneurs since 1998 and have built a library of over 900 articles to drive our mission of helping Canadians start, run and grow successful companies," says King. "An essential part of that is helping them access key information and resources on a just-in-time basis. In addition to providing a knowledge library on our website, we have started to participate in off-line events and partnerships that provide another important facet of the information entrepreneurs need to be successful."
Registration for the conference is open at http://www.n6bizseries.ca/20120920. Registrants will have the option to select their workshops in advance and numbers in the video stream will be limited (open on a first come, first serve basis). Those interested in attending are encouraged to register early, as the last two N6 events sold out.