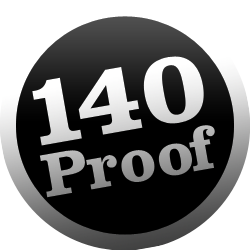 San Francisco, CA (PRWEB) August 30, 2012
Social technology company 140 Proof today released a new industry report that provides an inside look at the interest graph and why it is becoming increasingly important as a relevance engine for marketers, advertisers, app developers and social companies. Growing at a rate of over two billion data points per day, the interest graph can improve ad performance and could ultimately prove to be the best indicator of brand affinity when compared to other targeting algorithms, including those based on the social graph.
The interest graph is composed of publicly available online social data such as Likes, Follows and the connections between people and things, products or brands. 140 Proof measures the social spectrum of interests, capturing signals from Facebook, Twitter, Google+, Foursquare, Pinterest, Instagram and other social sites. In contrast to the social graph, which represents who you know, the interest graph is organized around interests and what you know, presenting an enormous opportunity to suggest content to audiences based on what they actually like.
The latest report, "Inside the Interest Graph," explains why companies should do more to integrate the interest graph into their business operations and marketing activities. Topics covered in the report include:

Why the interest graph is the ultimate recommendation engine
How the interest graph predicts brand affinity better than any other targeting algorithm
Why relevance matters and how it is the key to sustained happiness for both consumers and advertisers.
"The interest graph is a better indication of your aspirations than the social graph, because who you know isn't necessarily an indication of what you may like," said Jon Elvekrog, CEO of 140 Proof. "With billions of data points generated daily by hundreds of millions of consumers, the interest graph enables brands to better match social ads to customers' interests. To capture and capitalize on the speed and growth of interest graph data, 140 Proof is focused on providing an industrial strength solution that makes insights from the interest graph tangible to both advertisers and publishers."
To download the "Inside the Interest Graph" report, please visit: http://proof.ly/inside-the-interest-graph
Next month, 140 Proof is publishing a technical white paper that gives a first glimpse into their Interest Graph-powered Relevance Engine.
About 140 Proof
140 Proof is the leading social stream media platform, providing brand advertisers a simple and effective way to reach millions of consumers primed to discover and share. The company delivers sharable ads to users above their information feeds from Twitter, Facebook and other socially connected services. 140 Proof's stream-analysis technologies match ads to the target audience persona groups based on public social cues like who they follow and keywords in their feeds. Social and viral effects deliver unique benefits to brand advertisers, while maximizing revenue for partners, enabling them to provide compelling stream-based applications and services to consumers on their web and mobile devices. The stream is everywhere -- 140 Proof is headquartered in San Francisco and has sales offices in New York, Los Angeles, Chicago and Detroit. For more information, please visit: http://www.140proof.com