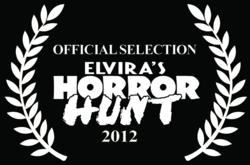 The Awakened is a fresh story. - Jason Hignite, HorrorHound Magazine
Miami, Florida (PRWEB) August 30, 2012
Blue Nile Pictures and White Lotus Productions announced today that their film, The Awakened, has been selected to be screened at the 2012 Elvira's Horror Hunt Film Festival. The festival is part of HorrorHound Weekend in Indianapolis, Indiana, and takes place September 7th through the 9th. The horror convention has more than 12,000 attendees every year.
The film is the brainchild of first-time Miami independent filmmakers, Juan F. Gonzalez and Lou Simon. "It is about five friends who have a hurricane party at a house, but when they recreate a spiritual healing as a joke, they inadvertently awaken a demon," explains Writer/Producer/Co-Director Lou Simon. "Now, they are trapped inside the house with the demon and cannot get out because of the storm."
Producer Juan F. Gonzalez further explains. "These five friends don't take anything seriously. They're partying through a storm, they don't have any hurricane supplies, and finally, they treat the whole spiritual healing as a joke. That is their ultimate downfall – they are young and irresponsible."
Hurricanes are obviously a big part of Floridian's lives, but how did they come up with the idea of the spiritual healing? "I have always been a huge skeptic and never believed in those things," says Juan. "But all that changed when I visited a friend who had been previously diagnosed with cancer." When Juan saw his friend, the man claimed that his cancer had been cured through a spiritual healing. The friend then passed both hands over Juan's body to show how one can feel the energy of the healing.
Wanting to verify that his mind was not playing tricks on him, Juan then asked Lou Simon to attend a healing of her own. Lou had been suffering with ocular migraines for years, but doctors told her that there was no treatment for her condition.
A skeptic herself, Lou agreed to go attend a healing. She had the same strong sensation of the energy, and after only one session, her ocular migraines disappeared. Knowing that there was something real there, Juan and Lou did more research into spiritual healings. "We read about how some people see spirits during the session," says Juan. "So we thought, 'what if the spirit that they see is not a nice healing spirit, but an evil demon?"
Their research inspired what became The Awakened. However, the filmmakers want the public to know that this is a completely fictitious story. "I don't want people to think that this could really happen," Lou vehemently explains. "This is only entertainment. The real experience is extremely positive and calming. Maybe it's all psychological, but I know what I felt that day, and that my migraines disappeared. So you can count me in as a believer."
The five friends are played by Stephanie Rae Pitts, Nikolas Holmes, Jonathan "Legacy" Perez (of Season 6 of "So You Think You Can Dance"), John Thomassen, and Nancy Sayegh (of the CW's "The Catalina"). The supporting cast is made up of Miami actors Julie Kendall, Harry Marsh, Wil Jackson, Saphie Gonzalez, and radio personality Paul Castronovo of The Paul and Young Ron Show.
The film was shot during the Halloween season in a private home in Miami, and it was done with what is considered a micro-budget by Hollywood's standards. Despite their budget limitations, the filmmakers were able to produce a film that is already garnering some recognition. Jason Hignite, of HorrorHound Magazine, called The Awakened a "fresh story" and commented that the film is "hold-on-to-your-seat scary."
"This was a labor of love for all of us. That is the reason why we were able to complete the entire film for such a low budget and on time," says Executive Producer, Andrew M. Feldman. However, Juan has another explanation as to why things have gone so well for the film. "I think that a higher power wants us to use this film to let people know that spiritual healings exist and that they do work."
The audiences at this year's HorrorHound Weekend will be the first to be able to see what a spiritual healing looks like on the big screen. Maybe, after watching it, they will be moved to judge whether spiritual healings work for themselves.
For more information, fans can visit the film's website at http://www.theawakenedfilm.com and the HorrorHound Weekend website at http://www.horrorhoundweekend.com.