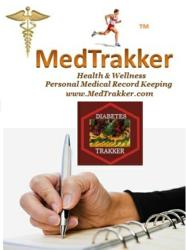 Diabetes has been labeled "The Silent Killer". Managing, documenting and tracking your diabetes will empower patients with knowledge and resources to proactively manage their disease and prevent or control diabetes complications.
(PRWEB) August 30, 2012
Whether a patient has Type 1 or Type 2 Diabetes, there are so many areas of life that Diabetes affects. Diabetes Trakker can help explain many complications that arise such as glaucoma, blindness, nerve damage (neuropathy), kidney failure and in very severe cases amputations of the leg, foot or toes. Diabetes Trakker medical record keeper, can track everything from medical history, personal contacts, surgical histories, health and nutrition, medications, immunization dates, medical devices, blood pressure levels, to appointments and doctor and office visit notes. Not only does Diabetes Trakker have a place to record appointments, information about medications, side effects and benefits, log tests and procedures, manage blood glucose testing and insulin records, dialysis regimens but it also has a section to record life matters.
One of the other benefits of Diabetes Trakker is the insight of the author to include an extensive section in this personal medical record keeper to keep track of personal information that is hard to obtain while trying to care for a patient. The last thing a loved one should have to do is compile all the personal information only the patient knows, such as the locations of bank accounts, safe deposit boxes, insurance policy info, automobile titles, birth and death certificates, power of attorney, divorce papers, last will and testament, and important contacts, such as lawyers, family physician, funeral home, cemetery plot information, executor, stock brokers, etc. With Diabetes Trakker, all this information is crucial and if it's all in one place, an already stressful situation can be lessened quite a bit.
With Diabetes, as with any life threatening health condition, it's important to learn about the risk factors associated with an illness and how to avoid complications. Diabetes Trakker helps a patient or caregiver know when to start diabetes screening and informs a patient of conditions that can develop as a result of diabetes and how to treat them. This personal medical record keeper has a section to keep a daily food diary, a weight record and a daily exercise log for patients to monitor physical condition and maintain the best possible health at all times.
That's not all; Diabetes Medical Organizer provides a place for medical provider comments, and a large section to record insurance information. Anyone who has been involved with a chronic illness understands that insurance can be one of the most frustrating parts of medical care. There are so many variables when dis- ciphering covered and non-covered procedures. There are insurance tips and pages to record discussions with insurance agents and a place to take notes for future reference. This personal medical record keeper stands out among all the rest.
You can find Diabetes Medical Organizer exclusively online at http://www.medtrakker.com/. Author Amber Bowden is available for speaking events, book signings and expert quotes and can be reached at Linkedin and on Twitter to answer further questions regarding the whole family of MedTrakker Personal Medical Record Organizers.