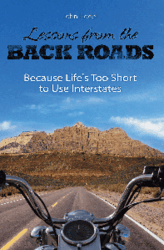 (The author) adopts an attitude of focusing on the journey rather than the destination – the opposite philosophy of how he had been living his life.
Mission Viejo, Calif. (PRWEB) August 30, 2012
On June 12, 1995, motorcycle enthusiast and computer software salesman John Hodel begins the trip of a lifetime: a solo three-month, 18,000-mile motorcycle adventure through the back roads of North America ... which also includes an internal journey within himself. After experiencing a profound personal setback in his life and finding himself deep in the ruts of life and career, he makes the decision to break out and live a life-long dream. "Stepping outside life's comfortable boundaries, discovering the hidden wonders of this land and its people, and learning a lifetime of lessons in three and a half months," he writes in the preface of this new memoir. His companion on this journey is a basic 1990 Harley-Davidson FXR Superglide with no fancy faring or large windshield, just a bike, rider and the wind.
"Lessons from the Back Roads" details John's unforgettable journey, starting in California's Mojave Desert, up the coast of California, through Canada, the Midwest, up to NewFoundland, down through the East Coast and back through the Southern states. He adopts an attitude of focusing on the journey rather than the destination – the opposite philosophy of how he had been living his life, rushing with eyes fixed only ahead. Taking mostly back roads and camping much of the way provides the freedom to travel and stop wherever and whenever he wants. Camping in remote areas within the Canadian Rockies to horseback riding with a girl he meets in Vermont to getting his first tattoo in Fernie, British Columbia, to seeing an iceberg at the tip of NewFoundland illustrates the diversity such a trip provides.
Humor is a key ingredient in making this journey even more interesting as there are plenty of setbacks and interesting situations that provide good material. There are also many emotional moments as well as John ponders his insecurities and shortcomings, touching his brother's name on the Vietnam wall, reflecting on his dad's death on a motorcycle two months before his retirement and his commitment to his Christian faith throughout the ride. John's retelling of his grand adventure provides inspiration to live life to the fullest when you have the chance. The message: Don't put off your dreams today, because tomorrows are promised to no one.
Author John Hodel grew up in the sixties and seventies in Northern California. When he was 12, he received his first motorcycle – a Yamaha 55 step through. He began off-road racing when he was a teenager, eventually graduating to racing in Mexico and bought his first street bike when he was 16. He was molded by many events in his life, including an endearing mother, a brother who was killed in Vietnam in 1968, and the loss of his father, killed in 1979 in a motorcycle accident. Despite this, motorcycles had always been at the core of John enjoying life, fitting for a journey such as this.
----------
For additional information, please visit http://www.lessonsfromthebackroads.com.
Lessons from the Back Roads: Because Life's Too Short to Use Interstates
John Hodel
Dog Ear Publishing
ISBN: 978-1-4575-0563-8 284 pages $14.95 US
Available at Ingram, Amazon.com, Barnes & Noble and fine bookstores everywhere.
About Dog Ear Publishing, LLC
Dog Ear Publishing offers completely customized self-publishing services for independent authors. We provide cost-effective, fast, and highly profitable services to publish and distribute independently published books. Our book publishing and distribution services reach worldwide. Dog Ear authors retain all rights and complete creative control throughout the entire self-publishing process. Self-publishing services are available globally at http://www.dogearpublishing.net
and from our offices in Indianapolis.
Dog Ear Publishing – self-publishing that actually makes sense.