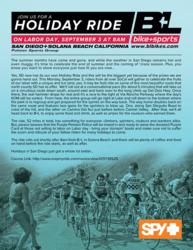 It's very exciting and it's the most popular cycling event in Solana Beach
SAN DIEGO, CA (PRWEB) August 30, 2012
B+L Bike and Sports, with locations in Point Loma and Solana Beach, is the total resource for everything triathlon, with a cycling focus. On Monday, September 3, 2012, B+L will be holding a Labor Day ride starting from its Solana Beach store. B+L and SPY Optics are sponsoring the ride and offering free food, prizes, special giveaways, and sales on other items.
Riders from all over Southern California will be joining this free, annual ride. B+L Owner Mark Palmer says "It's very exciting and it's the most popular cycling event in Solana Beach on Labor Day weekend. It often times turns into a race and it's great for pros and beginners. Riders should get ready to hit the hill!" The ride is 52 miles long and starts at the Solana Beach store around 8a.m.
SPY will be giving away sunglasses and B+L will give away a pair of 105 pedals, coupons for free tune-ups, and a 30% off coupon for any item under $100 in the store. Other free items include handle bar tape and water bottles. Coffee and bagels will be provided before the ride and sandwiches and drinks will be available after.
Beginners will feel comfortable on this ride, as there will be plenty of people available to assist, educate and ensure everyone is safe and has fun. B+L Bike and Sports Solana Beach store is located at 211 N Hwy 101, Solana Beach, CA 92075. Phone: (858)481-4148. Link to course map: http://www.mapmyride.com/routes/view/129739525 Any questions please call the Solana Beach store or email: crugg(at)blbikes(dot)com
About:
B&L Bike and Sports is your total resource for everything triathlon, with a cycling focus. With an extensive selection of components, accessories, clothing, triathlon equipment, and nutrition products people of all different levels can find what they need both locally in shop as well as online. B+L's bike selection runs from entry-level road and mountain up to expert level custom build outs. Both stores offer expert level road and mountain bike rentals to San Diego area residents and visitors. Individuals in the B+L stores are passionate about all forms of cycling from the tradition of road racing to the intensity of the Hawaii Ironman and the rush of a downhill single track all rooted in the So-Cal beach culture. Read up on news, training and nutrition tips and promotions on our blog. "Like" us on Facebook , Tweet with us, and Pin with us.