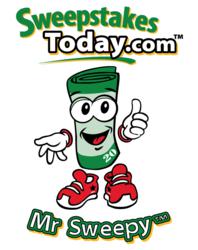 (PRWEB) August 30, 2012
It's probably not surprising that Stephanie Sims of Maumelle, AR, considers herself addicted to sweeping, as she admitted in a recent interview, saying "Addicted? Absolutely. At first I was losing sleep trying to enter in the middle of the night, (because) I found the wins were coming fast and often."
"She's been a steady winner for over six years," Craig McDaniel, Founder and CEO of Sweepstakes Today.com (http://www.sweepstakestoday.com) said today.
Her obsession with sweepstakes began in 2006 when she won a $500 gift certificate. Her success let her to look for more opportunities to win by searching the web. That led her to (SweepstakesToday.com) where she quickly took advantage of their always free membership.
Through the forum there Sims quickly became friends with a woman she's still in contact with. She also got to know "Mr. Sweepy," the cartoon character who represents both the site and McDaniel.
In 2008 her winnings put her in the site's desirable 10K Club with a grand prize win of an all expense paid trip for four to Las Vegas in a contest sponsored by 3M.
But it was the consistency of her wins that again brought her to McDaniel's attention recently. "I realized she was showing up on our winners list several times a month," he said. "She's won a ton of small prizes, like t-shirts and gift cards, but she's also won other big prizes. We don't track amount won exactly – that's kept strictly private, but she's winning enough each month to make it a nice part time job.
Entering sweepstakes isn't the only way Sims spends her time. "I work full-time as a speech-language pathologist, am married to my best friend, and have two children who stay busy with football, piano, and tennis in addition to homework," she explained.
And to those who say they don't have time? Sims insists, "Yes you do! You can do it. And you will eventually win. It's a numbers game."
Sweepstakes Today LLC was launched online in March of 2004. The popular sweepstakes website is based in Tulsa, Oklahoma and the custom Microsoft ASP/ASPX programming development is done in Salt Lake City, Utah. The website has now published over 37,000 sweepstakes, contest and giveaways. 243 members currently are in the $10K Club having won over $10,000 in cash or prizes.