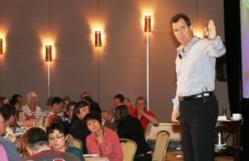 In these desperate times, we need alternative ways to buy properties, without depleting our wallets and begging the bank for a loan. There are other property strategies that work. We just need to think outside the system, just like my student Rob
(PRWEB) August 31, 2012
Instalment or Terms Contract is one of the most popular property strategies especially in times of financial crisis or after war era when loans are hard to get by. This strategy is simple, yet effective according to property investing expert Rick Otton. For more than 30 years, he has taught his students strategies like instalment contracts to buy and sell houses.
His self-help property book 'How to Buy a House for a Dollar' contains real cases and transaction his students went through. One student, Rob from Queensland detailed how he was able to sell. "This guy was going bankrupt when he found me. I paid $2,500 of his arrears payments, and put legal paperwork in place, which said I would guarantee to babysit his loan until other people bought the property," Rob said.
The loan debt was $178,000, and Rob onsold the property on an instalment contract for $250,000 to an air conditioning guy. The buyer then spent $50,000 on the place, did it up and increased the value by $120,000. "I got a deposit of $10,000 up-front, and agreed on monthly instalments of $497," he explained.
The buyer then cashed out after two years, giving Rob a profit of $72,000 on the backend. The buyer later put the house on the market at $370,000.
Advantages of Instalment Contract
The characteristic that makes the instalment contract strategy outstanding is that it works perfectly when bank loans are hard to get, Mr. Otton said. He added that it was very popular after the war and up to the early 1970s. Even today they are used to transact a lot of country property, he said.
"With an instalment contract the seller provides the buyer with the loan – usually under better terms then offered by banks – but only gives them the equitable title, holding onto the legal title until the borrower has repaid the debt. In most cases the borrower sells or refinances the property prior to the loan term expiring, and repays the loan, at which time the legal title is transferred to them," Rick Otton explained.
He added that with an instalment contract the settlement is delayed up to 30 years, but the seller receives the sales proceeds in the form of monthly principal and interest payments, just like a bank does with a mortgage.
"In these desperate times, we need alternative ways to buy properties, without depleting our wallets and begging the bank for a loan. There are other property strategies that work. We just need to think outside the system, just like my student Rob," Mr. Otton said.
Rick Otton will be teaching Instalment Contracts and other property investing strategies in his upcoming seminar workshops. For more info on these events, please visit: HowToBuyAHouseForADollar.com/Register
About Rick Otton
Rick Otton has spent decades making money by snapping up inexpensive real estate and putting it to work building wealth. Now, he's teaching other Aussies how to do the same.
Otton is the founder and CEO of We Buy Houses, which operates in the U.S., U.K., Australia and New Zealand putting his strategies to work every day.
Otton got his start in alternative real estate investment in 1991 and within a year acquired 76 properties. In years after, Otton made a fortune using his low-risk, high-reward strategies to inexpensively acquire real estate.
Now, Otton wants to share the wealth by sharing the wisdom, teaching Aussies how to buy and sell real estate without cutting banks and other middlemen in on the deal.
Otton has been featured in a variety of television programs and magazines, including Today Tonight, A Current Affair, Australian Property Investor and more.
You can learn more about Otton and how to invest in residential real estate without using banks at http://www.rickotton.com.