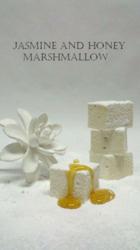 the chefs were interested in working with the crystallized honey needed to produce this flavor since they knew real honey would be to heavy in the mix and the marshmallow would not fluff properly
New York, NY (PRWEB) August 30, 2012
New York dessert artisans Three Tarts have announced the winning flavor in their "New Flavor Marshmallow Contest after chefs reviewed hundreds of submissions and tested their favorite finalists.
The winning flavor - jasmine & honey - was sent in by Stephen Ronay from New York and part of the Luke's Lobster at The Plaza Food Hall team and coincides with National Toasted Marshmallow Day.
"The flavor pairing and the technique necessary to produce this flavor were both interesting to our chefs," said Three Tarts owner Marla D'Urso.
When asked to elaborate on why this flavor was crowned the winner the Three Tarts Founder went on to add "the flavor sparked our interest because they immediately thought of jasmine tea served with honey, a classic combination."
As the creator of the winning flavor, Mr. Ronay will receive a marshmallow toasting party for four including his creation as well as Three Tarts house-made iced tea or lemonade and a tour of the Three Tarts flagship location in Chelsea or Three Tarts at The Plaza Food Hall.
Marla D'Urso also noted the food science aspect of the new flavor - "the chefs were interested in working with the crystallized honey needed to produce this flavor since they knew real honey would be to heavy in the mix and the marshmallow would not fluff
properly."
Three Tarts Bakery & Boutique flagship store is located in the Chelsea section of New York City at 164 Ninth Avenue and can be reached at (212) 462-4392. Their second location, Three Tarts at The Plaza Food Hall, is located at New York's The Plaza Hotel. Three Tarts is also on Facebook, and @ThreeTartsNYC on Twitter.