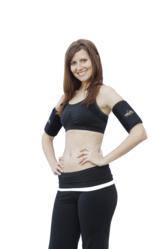 Vista, CA (PRWEB) August 30, 2012
DELFIN SPA WEAR -THE EASY AND EFFECTIVE WAY TO A SLIM & SLEEK NEW YOU!
http://www.delfinspa.com DELFIN SPA introduces its scientifically advanced active wear that improves working out and turns even your everyday errands into an effective way to tone and improve your body! Through the amazing Bio-Ceramic technology blended into the nylon/lycra lining of its shorts, capris and other pieces, Delfin Spa wear is able to focus your own natural body heat and escalate your metabolism into a self-sustaining means of burning calories while you work out or go about your daily chores. Delfin Spa shorts and capris make perfect form-fitting gym wear with just the right amount of binding properties while the tummy tighteners and upper arm bands hold snugly with convenient velcro straps. The shorts may even be worn under your jeans and other outfits with superior comfort. Enhance the effect even further by applying the Delfin Spa Anti-Cellulite Cream first to give your skin a healthy smooth and silky glow.
Established in 2007, Delfin Spa was conceived by John Westgarth who delved extensively into the science of how Bio-Ceramic works and how its practical applications could be translated into garments. His entreprenuerial vision and business and marketing acumen inevitably led him to developing the Delfin Spa line with an eye toward creating clothing and products that work in tandem for healthy, active lifestyles. Available at specialty stores nationwide and online at Amazon and http://www.delfinspa.com, Delfin Spa wear offers shorts ($40),capris ($50), tummy tightener bands ($30), calf sleeves ($25), upper arm bands ($20), and its signature anti-cellulite cream ($20 6 oz). Get the best results at the gym or make every day an opportunity to transform into a slimmer, healthier you with Delfin Spa!