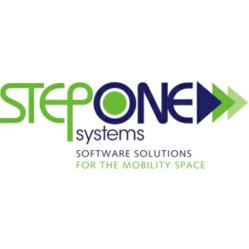 Pittsburgh, PA (PRWEB) August 30, 2012
StepOne Systems, leaders in enterprise mobility software, today announced a strategic solution partnership with Hybrid Paytech, a leader in mobile payment innovation. The solution partnership will enable StepOne's Mobile Checkout application to take in-aisle payment in a PCI-and EMV Level 2 environment.
"We are thrilled to work with Hybrid Paytech and bring payment to Mobile Checkout," said Todd Berner, CEO, StepOne Systems. "StepOne recently announced Mobile Checkout as the next piece of the StepOne RETAIL Sales Assist family and bringing compliant in-aisle payment with a breadth of merchant accounts through Hybrid Paytech completes the solution stack."
''Based on Hybrid Paytech's ability to integrate with existing merchant accounts through various acquirers, the joint solution developed with StepOne presents great value to any multi-store retailer looking to accept mobile in-store payment,'' said Kevin Conabree, head of strategic partnerships at Hybrid Paytech. ''StepOne has a wealth of experience providing in-store mobility software solutions and it's exciting to see that retailers small and large can now benefit by eliminating wait times at checkout and servicing customers in-aisle without major changes to existing infrastructure or retailers' merchant accounts.''
The initial implementation will be on the StepOne RETAIL: Mobile Checkout application with mobile payments via Hybrid Paytech. Initial roll-out is expected in Q4 2012 for targeted mobile devices supporting Android, Windows Mobile, and Apple iOS operating systems.
About StepOne Systems
StepOne Systems, LLC is a recognized leader in Enterprise Mobility Software with tens of thousands of users working each day in retail stores, on delivery vehicles, and in small warehouses. Through StepOne's ready-to-go applications and integration services, customers experience a fully supported, turn-key, mobile software solution that puts their enterprise systems in their employees' hands at the point of activity. For more information, visit our web site at http://www.steponesystems.com.
About Freeport Capital Inc.
First Equity Strategy LLC (DBA; Hybrid Paytech is a subsidiary of Freeport Capital Inc. Based in Montreal, Canada; Hybrid Paytech is a technology leader in the mobile payment space for EMV, Credit and Pin Debit acceptance offering an ERP (Enterprise Ready Platform) enabling Processors & Acquirers with quick merchant adoption solutions. With a global footprint, Hybrid Paytech is an enabler of easily deployable payment systems for Smartphones & Tablets focusing on Encryption & Authentication for Merchants in the Fleet, Delivery, Logistics, Transit, Government, Hospitality and Retail industry "on the go".
For further information on Hybrid PayTech, please visit http://www.hybridpaytech.com and click on our corporate video presentation http://www.youtube.com/watch?v=XvZHrck2eag&feature=youtu.be
The Canadian National Stock Exchange has not reviewed this news release and does not accept responsibility for its adequacy or accuracy. This news release does not constitute a solicitation to buy or sell any securities in the United States.
For further information:
Freeport Capital Inc.
Mr. Michele Tasillo
(514) 394 5200
mtasillo(at)hybridpaytech(dot)com