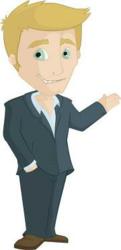 Austin, Texas (PRWEB) August 30, 2012
BetterNetworker Instructor Russell Brunson has just posted a new video on BetterNetworker.com in which he reveals a key lesson he learned from an event hosted by personal development and motivational speaker Tony Robbins.
In this video, which is part of Brunson's online video series "The Daily Sketch," Brunson discusses the concept of pattern recognition, and explains how to identify, break, and replace the patterns people tend to engage in on a daily basis. These patterns, he says, shape the way people interact with potential customers, and can therefore make or break a sale. Since they tend to be unconscious, he continues, it can be challenging to be able to identify them without the proper tools and training.
Brunson, a multi-million dollar earner who got his start in Internet marketing by developing a product that teaches people how to build a potato gun, has been featured on ABC and NBC news, and has worked in the past with Virgin Group founder Sir Richard Branson.
An avid fan of Tony Robbins, Brunson has collaborated with him in the past on a DVD series titled, "The New Money Masters." Robbins has even been quoted as saying, "It's so rare to find someone who's truly authentic… who's not just playing genuine, but actually is genuine, and Russell Brunson is that man."
A BetterNetworker Instructor since April 2012, Brunson has already posted several episodes from his "The Daily Sketch" series on the site, most of which have been featured in BetterNetworker's weekly "What's Hot" newsletters. In addition, BetterNetworker teamed up with Brunson in May to promote his "Second Upline" product, which was extremely popular amongst BetterNetworker members.
"The bottom line is that Russell is extremely straight forward while delivering tips and training advice that can be implemented right away," says Editor Victoria Garment. "He doesn't 'beat around the bush' and speak in vague terms or generalities, which is something a lot of so-called 'leaders' out there tend to do. With Russell's content, whether it's one of his Daily Sketch videos or a webinar, it's just solid information – no embellishment, no hype. That's why our community has responded so strongly to him since he became an Instructor."
Brunson's video can be found by clicking on the following link:
http://www.betternetworker.com/videos/view/personal-development/ninja-money-making-tips-tony-robbins-daily-sketch-ep-5