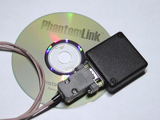 Albuquerque, NM (PRWEB) August 30, 2012
Phantom Data Services, LLC announces the release of a free open-source project, PhantomLink, with the intent to transform the alarm monitoring industry and empower homeowners to self-monitor their own security systems through the cloud. The project leverages existing equipment, requires only a simple retrofit, and is offered for free with no recurring costs.
Alarm monitoring services are the bread and butter of the security system industry -- and for good reason. Security companies will spend only a few dollars a month on wholesale monitoring contracts for their "central station", then mark up the price -- sometimes over 1000% -- before offering it to clients. Many companies provide little to no added value during this process. They may offer "free" consultations, even "free" equipment, all the while knowing that any losses will be recouped in just a couple of months.
Many clients will pay for service for several months, then at the end of their contract period, cancel their service. The reasons for cancellation are varied, but the most common reasons reported by homeowners are the cost and lack of perceived value. Homeowners may spend $30 to $60 a month on the service, and to add insult to injury, they hope they'll never need to use it. They're simply paying for peace of mind.
Fortunately, the prevalence of wireless internet provides liberation for those unwilling to pay for alarm monitoring services. PhantomLink uses a small, easy-to-install device that links an existing security system (even old, unused, and unmonitored systems) to the user's wireless internet connection. If the device senses an alarm, or if the internet connection is severed, servers immediately alert the user via email and/or text messages. The user can then log into the PhantomLink.com alarm monitoring dashboard to review logs of the alarm event. The user can also optionally add webcam video to their dashboard to see real-time video of their home or driveway. This allows the user to monitor their property through the cloud, and receive automatic email and text message notifications, all at no charge.
Full circuit schematics, source code, and instructions for using this self-monitored security system solution can be found on the PhantomLink DIY webpage at http://www.phantomlink.com/diy.aspx. Do-it-yourself alarm installers and electronics hobbyists are encouraged to participate in this project to develop and expand the capabilities of this technology.
###
PhantomLink.com provides do-it-yourself remote security monitoring solutions. PhantomLink.com was developed by and is operated by Phantom Data Services, LLC, a New Mexico limited liability company specializing in website development services. Visit http://www.phantomlink.com for more information.