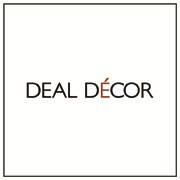 (PRWEB) August 30, 2012
With Labor Day weekend coming up, retailers are luring consumers with promises of end-of-summer savings and inventory blowouts. The founders of Deal Décor have leveraged their retail expertise, derived from years of experience at Home Depot, Target, Gap and Williams-Sonoma, to arm shoppers with the best practices to get the merchandise they want, at the best possible price. Today's advice comes on the heels of last week's launch of Deal Décor's e-commerce site, where the company sells the same furniture as popular retailers such as Pottery Barn and Restoration Hardware, without the astronomical price tag.
Five Tips from Deal Décor before Tackling Labor Day Sales:
Carry a smartphone.
There's no better way to judge value than to price-compare an item on the spot while at the store. Retailers with both brick-and-mortar locations as well as an e-commerce site will often display a lower price on their online store. Share your research with the salesperson, and get a better price instantly.
Check for fine print on "Price Guarantees."
Many retailers claim that they will price-match an item, but when pressed, they will often find a loophole to wiggle out of it. For example, a consumer may buy a sofa from a store, and later find it online at a lower price. When he or she goes back to the store, the retailer may argue that the competitor's product is named differently and therefore classified as a different product. Consumers should clarify the limitations on price comparisons before buying under the terms of a price-match guarantee.
Closeouts are long-term commitments.
At the end of a season, as is the case with Labor Day, stores are trying to closeout certain items to make room for inventory appropriate for the next season. Consumers may believe they've discovered a great deal, but they don't realize that what they are buying isn't returnable. Before buying, inspect the product. Deal Décor recommends opening the box before walking out of the store.
Broadcast your voice through social media.
Use your social network and influence to demand accountability from retailers. Comment on the retailer's Facebook page when you have a poor experience or feel that they have misrepresented something. Some retailers go out of their way to make amends for mistakes.
Almost everything is negotiable.
Most consumers don't hesitate to negotiate for a car. This is also an option for furniture, mattresses and many other products. Do not hesitate to ask for a discount, even on sale or clearance items. You won't get it if you don't ask!
Deal Décor is currently running its first deal for California residents. To view locations where the furniture can be seen in-person and to meet the founding team, please visit http://www.dealdecor.com.
About Deal Décor
Deal Décor is disrupting the $80 billion furniture industry by harnessing the power of online group buying to offer expertly crafted, quality furniture—without the astronomical price tag. By working directly with factories and eliminating the middleman, Deal Décor has created the most efficient and innovative supply chain, and passed along these dramatic savings to savvy shoppers. With direct price comparisons to other home furnishing companies, and beautiful, detailed photos and videos of each product, Deal Décor is demystifying furniture buying and bringing the most sought-after styles into affordable reach. Deal Decor instills confidence in consumers that they have truly found the smarter way to buy furniture.