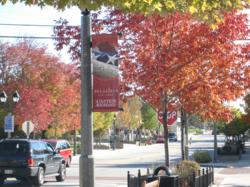 Experience Wisconsin's fall color in Delafield, Wisconsin. Start planning your unique getaway... Area events and activities through November include a Fall Art Walk, Car Show, Halloween's Fright Hike, Ten Chimneys Estate Tours and more.
Delafield, Wisconsin (PRWEB) August 30, 2012
After the excitement and busyness of summer, there's something calming about the kaleidoscope of fall colors and the crispness that begins to permeate the air. Delafield, Wisconsin, a lively city in "Lake Country", offers no shortage of adventures this season to enjoy the beauty of what many would argue is Wisconsin's most magnificent season -- Fall!
Just 35 miles west of Milwaukee, Delafield is a convenient launching point for all the happenings downtown along Lake Michigan. It's close to world-class museums, top-notch festivals, and professional sports, but you don't have to leave Delafield to fill your days with new adventures. The City of Delafield's Colonial Williamsburg architecture and surrounding natural beauty is set amid a vibrant community of trendy boutiques, well-known stores, restaurants, and many family-friendly events.
Book your stay to experience Wisconsin's fall color in Delafield
Make travel plans to stay in downtown Delafield at the luxurious Delafield Hotel, recently named the #4 top hotel in Wisconsin by US News and World Report! Set amidst the downtown area that features Colonial Williamsburg architecture, several boutique stores, decadent chocolate and tasting stores, an art gallery, restaurants, and more.
A short drive east of downtown along Milwaukee Street, you'll find the hotels: Holiday Inn Express, La Quinta Inn and Suites, and the Country Pride Inn. All conveniently located within walking distance delicious restaurants and dozens of well-known retailers, which add to the memorable experience.
Travelers and tour groups looking for fall getaway ideas, travel planning events and guides to the area can be discovered at VisitDelafield.org. Choose to "Like" the Delafield Chamber/Tourism at Facebook.com/VisitDelafield, follow along on Twitter at Twitter.com/VisitDelafield or call 1-888-294-1082.
September Events
Downtown Art Walk - Friday and Saturday, Sept. 7-8, 2012
Downtown sidewalks are filled with artwork, music, activities, and shopping. Take a horse drawn carriage ride through streets of Delafield. The event is free.
The North Face® Endurance Challenge Madison Midwest Regional - September 15-16, 2012
The ultra challenging course that cuts through picturesque Kettle Moraine State Park, includes a large portion of the Ice Age National Scenic Trail. Course lengths include the Gore-Tex® 50 Mile, 50K, Marathon, Half Marathon, Marathon Relay, 10K, 5K, and Kid's Run. Make your plans in advance to stay at one of the four Delafield hotels.
Delafield Classic Car Show - Sunday, Sept. 16, 2012
Calling all die-hard car enthusiasts, history buffs, car culture enthusiasts, this event is sure to capture the spirit, freedom, and beauty that automobiles have provided for over 100 years.
October Events
Fright Hike at Lapham Peak - October 27-28, 2012
Walk the dark and eerie 1-mile trail called Fright Hike where Halloween scenes and spooky performers are scattered along the trails of Lapham Peak Unit of the Kettle Moraine State Forest.
Halloween in Delafield featuring the Grand Pumpkin Illumination - October 27, 2012
Families can enjoy trick-or-treat participating businesses then are welcome to watch the Grand Pumpkin Illumination, where fun, yet non-spooky, Halloween music builds excitement as the pumpkins are grandly lit. The event is free.
Activities Throughout the Fall Season
Ten Chimneys - Estate Tours through November 10, 2012
Ten Chimneys was the exquisite summer home of famous 1930s Broadway actors, Alfred Lunt and Lynn Fontanne, which is now a National Historic Landmark. Groups/individual estate tours are available. Advanced reservations recommended.
Old World Wisconsin - Tours through October 31, 2012
Travel back in time to this interactive history museum of early Wisconsin featuring engaging, fully costumed volunteers and over 65 historic buildings. Groups/individual tours are available.
Hawks Inn Museum Tours - Saturday tours through October 27, 2012
A Wisconsin Landmark, the inn, erected in the 1800s, has been described as an "unsurpassed example of an early stagecoach stop." During the tour, hear stories of days gone by and learn about period artifacts. Groups/individual public tours are available.
St. John's Northwestern Military Academy - Campus tours
A landmark and vital part of the community since 1884, this all male college preparatory and leadership school has shaped the character of over 7,000 young men who have gone on to become heads of state; decorated military heroes; key business leaders; noted artists, politicians, and statesmen; and professional athletes.
Delafield Farmers' Market - Saturdays, May 5 - October 27, 2012
Visit this producer-only upscale market on Saturday morning in downtown Delafield. The farmers' market features locally grown vegetables and fruits, herbs, and a variety of handcrafts by local artisans.
Make plans to enjoy Southeastern Wisconsin's glorious fall season in City of Delafield. Call 1-888-294-1082 or go to visitdelafield.org to start planning your unique getaway today.