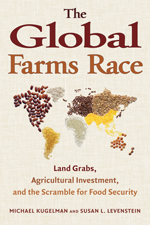 Nearly 230 million hectares of farmland—an area equivalent to the size of Western Europe—have been sold or leased since 2001
Washington DC (PRWEB) August 30, 2012
As we struggle to feed a global population speeding toward nine billion, we have entered a new phase of the food crisis. Wealthy countries that import much of their food, along with private investors, are racing to buy or lease huge swaths of farmland abroad. "The Global Farms Race: Land Grabs, Agricultural Investment and the Scramble for Food Security" is the first book to examine this burgeoning trend in all its complexity, considering the implications for investors, host countries and the world as a whole. The book addresses historical context, environmental impacts and social effects and covers all the major geographic areas of investment.
SSF is pleased to announce that Michael Kugelman will be joining the discussion in the September 5th "Food Security in an Urbanizing World" free webinar. Reserve your spot today to hear global experts present their work covering the drivers of change in international food systems and the effects of urbanization followed by a panel discussion on ways to improve food production, quality and distribution.
Michael Kugelman is the South and Southeast Asia associate at the Woodrow Wilson International Center for Scholars in Washington, DC. His work largely focuses on water, energy, food, land, and national security issues, particularly in, but not limited to, South Asia. His recent publications included the coedited volumes Empty Bellies, Broken Dreams: Food Insecurity and the Future of Pakistan (Vanguard Press, 2011) and Land Grab? The Race for the World's Farmland (Wilson Center, 2009).
Island Press is offering an exclusive discount to the SSF community on "The Global Farms Race," a Security and Sustainability Forum "Urbanization in a Growing World" Series Companion Reading.
About Urbanization in a Growing World
Shifting populations are leading to shifting concerns and shifting development paradigms. SSF's free webinar series, "Urbanization in Growing World" will examine the challenges and opportunities presented by rapid urbanization. Both population growth and climate change present different sets of parameters when considering urban issues. Partnering with the World Bank, the International Housing Coalition, Abt Associates, the Penn Institute for Urban Research, and the Wilson Center, our feature series will explore these critical topics from an academic, advocacy, and development perspective. Following the September 5 session on food security, SSF's Urbanization series will continue, covering urban infrastructure, economic development, and governance.
About the Security and Sustainability Forum
SSF is a public interest, membership organization that hosts free, live educational webinars. Sessions feature panels of global experts who address human health and welfare impacts caused by climate change and other environmental disruptions. The webinars outline how sustainable approaches to minimize environmental stresses can reduce instability and conflicts, thereby improving the physical and economic security of humankind. Our programs seek to not only educate our audience about sustainability and how it fits into their areas of interest and work, but also spark new ideas about resilient approaches and solutions.
Access to SSF's webinar archive is offered through a free membership program.