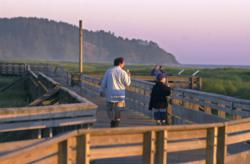 We're being rediscovered, and people are happy about what they are finding!
LONG BEACH PENINSULA, Wash. (PRWEB) August 31, 2012
Higher gas prices and a wet spring have not dampened lodging revenues for Southwest Washington's Long Beach Peninsula this year. Andi Day, Executive Director, Long Beach Peninsula Visitors Bureau, reports a banner year for this favorite Northwest coastal destination.
"It's exciting to see more and more people discovering the many attractions of the Long Beach Peninsula," remarked Day. "While 20-plus miles of beach remain the biggest draw, our food scene, affordable lodging, remarkable trail system, charter fishing and other recreational offerings like a surfing school are catching people's interest."
According to a report compiled by the City of Long Beach with Washington State Department of Revenue lodging tax reports, lodging tax collections are exceeding previously reported high years of 2009 and 2010 and are well above annual averages each month through July.
Day attributes the increase to several factors – new and newly refurbished lodging as well as an increase in vacation rentals coming online, expanded visibility through a multi-modal marketing, cooperative and cross marketing within the destination, and well-managed visitor services. She and her staff have seen more twenty somethings, friend and family reunions and European visitors. According to Day, people traveling with pets are also on the rise, and events are drawing bigger crowds. Day also notes that more people are seeking out authentic, off the beaten path places that offer good value, quality restaurants, easily accessible nature, relaxation and inspiration.
"We're being rediscovered," Day added, "And people are happy about what they are finding!"
About the Long Beach Peninsula Visitors Bureau
Located in Seaview, Washington, the Long Beach Peninsula Visitors Bureau was formed in 1985, as the communications hub for visitors to the region. Since then it has grown to a 310-member organization with a full-time staff of three and countless volunteers. The Visitors Bureau manages visitor information as well as countywide tourism marketing. It also supports tourism-related businesses and festivals through membership, cooperative marketing efforts and a comprehensive destination website.
About Southwest Washington's Long Beach Peninsula
With its mix of sensational restaurants, local seafood, ocean-view lodging, colorful festivals, unique museums and attractions, landmark lighthouses, fine art galleries, meandering trails, birding spots, state and national parks, and, above all, its long, wide, windswept beach, the Long Beach Peninsula continues to be one of the Northwest's most enjoyable and refreshing coastal destinations. Located 2.5 hours from Portland and 3.5 from Seattle, the Long Beach Peninsula is a longtime favorite for those seeking easily accessible outdoors, great food and affordable creature comforts. For event and destination information, please call the Long Beach Peninsula Visitors Bureau toll free at 1-800-451-2542 or access http://www.funbeach.com.