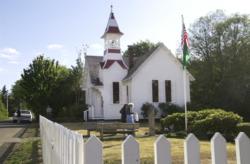 World-class classical talent at the edge of the world! Water Music Festival is one of a kind!
LONG BEACH PENINSULA, Wash. (PRWEB) August 31, 2012
Beach, marshlands, riverbanks and wetlands set the tone for Water Music Festival XXVIII, taking place Oct. 12, 13 and 14, 2012, on Southwest Washington's Long Beach Peninsula. Held at venues in historic, picturesque towns from Ilwaco to Oysterville, this series of ticketed and free performances showcase superb artistry and a variety of musical styles.
"World-class classical talent at the edge of the world!" exclaimed Andi Day, Executive Director, Long Beach Peninsula Visitors Bureau. "Water Music Festival is one of a kind!"
Opening this year's festival is The Miramont Trio, featuring vocal duo and guitar, on Friday, Oct. 12, at 7:30PM, at Ilwaco's Hilltop Auditorium. Forming the trio is the lovely and talented soprano Janet Marie Chvatal, who has played to audiences throughout the world including her professional debut as "Louisa" in THE FANTASTICS and European debut in Vienna as "Christine" in THE PHANTOM OF THE OPERA; along with German-born, baritone Marc Gremm, a student of Eva Randova, notable for his leading role as "King Ludwig" in the world premiere of LUDWIG; and classical guitarist, Scott Kritzer, who first performed with Chvatal and Gremm at a benefit concert at the Castle Neuschwanstein, in Bavaria in August 2011. Tickets for adults are $25 and can be purchased online at http://watermusicfestival.com/tickets/.
Classical guitarist, Scott Kritzer will also perform a solo concert at the landmark Oysterville Church on Saturday, Oct. 13, at 1PM. According to festival organizers "Kritzer's consummate commitment to technical excellence as the solid structure beneath an unparalleled sense of musicality has brought him decades of accolades from audiences and critics alike, in concert halls from San Francisco to Japan, and New York to Munich." Tickets are available with a Season Pass, with a limited number of tickets available at the door for $15 each.
The Goldenflute Chamber Trio, featuring award-winning flutist Rhonda Bradetich, pianist Aileen Chanco and composer and bass player Bill Everett, promises a rewarding evening of entertainment on Sat., Oct. 13, 7:30PM, at Hilltop Auditorium. An Idaho native, Bradetich has performed with the San Francisco Symphony, the Honolulu Symphony, the Boise Philharmonic, and others, as well as on public television and radio. Hailed as "an astonishing pianist" Chanco, a Julliard grad, has performed as a soloist, recitalist and chamber musician throughout the U.S., Canada and the Philippines. Principal bass of Symphony Silicon Valley, Everett performed on numerous recordings and in halls throughout the U.S. and Europe with the San Francisco Symphony. Everett and Chanco, who are married, are founders of Music at the Mission and perform recitals in the Bay Area. Tickets are $25 each.
An Artists' Reception with the trio and other performers will take place at Pelicano Restaurant, Port of Ilwaco, 9:30PM, following the concert. Advance tickets are suggested and can be purchased on the Water Music Festival website for $18.
Closing the festival on an upbeat will be Swing Fever, a standout jazz septet from San Francisco. Playing 30s and 40s swing and with four CDs to their credit, Swing Fever has appeared and recorded with Count Basie, Duke Ellington and other major jazz performers. The septet can be heard, Sunday, Oct. 14 at 2PM, at Hilltop Auditorium. The concert is free to the public (with donations welcome).
As part of the Young Artists program that started in 2008, this year's festival will showcase locally trained and gifted musicians Brooke Flood, Anja Patten and Sean Davies. These accomplished musicians will lead off select concerts.
For out of town guests, weekend packages are being offered at the following lodging establishments: Charles Nelson Guest House, The Boreas Inn, China Beach Retreat, Inn at Habour Village, Sou'wester Lodge, and The Shelburne Inn.
Active duty military and their families are invited to attend all concerts in Hilltop Auditorium free of charge. Children ages 6 through 18, accompanied by an adult, will also be admitted for free.
About the Water Music Festival
Founded in 1984 by eleven inspired individuals (six of whom still reside in the region), The Water Music Festival is an all-volunteer, nonprofit organization dedicated to bringing fine and affordable musical entertainment to the Long Beach Peninsula. For more information, call 360.665.4466 or email info(at)watermusicfestival.com.
About Southwest Washington's Long Beach Peninsula
With its mix of sensational restaurants, local seafood, ocean-view lodging, colorful festivals, unique museums and attractions, landmark lighthouses, fine art galleries, meandering trails, birding spots, state and national parks, and, above all, its long, wide, windswept beach, the Long Beach Peninsula continues to be one of the Northwest's most enjoyable and refreshing coastal destinations. Located 2.5 hours from Portland and 3.5 from Seattle, the Long Beach Peninsula is a longtime favorite for those seeking easily accessible outdoors, great food and affordable creature comforts. For event and destination information, please call the Long Beach Peninsula Visitors Bureau toll free at 1-800-451-2542 or access http://www.funbeach.com.