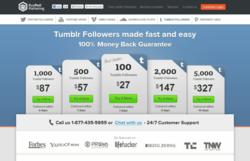 Ottawa, ON (PRWEB) August 31, 2012
Buy Real Marketing, the leading provider of web 2.0 business applications and social media services, announces a new addition to the roster of social media services they offer -- buy Tumblr followers. Strengthening their hold in the social media market, the internet company considered to be the leading provider of Twitter followers, has decided to resurrect the long been on hold Tumblr service.
According to the buy Tumblr followers service page, http://www.buyrealmarketing.com/buy-tumblr-followers, the micro-blogging networking website receives over 13.4 million unique views per month with 64.7 million blogs. The statistics are enough to convince Buy Real Marketing to give a go in offering Tumblr followers. The increased number in Tumblr followers will help small business owners appear credible not to mention the readily available real followers with the potential to convert as customers.
"We always want to be one step ahead in the competition. This means we have to step up our game in social media marketing and we think offering Tumblr followers will help our company get there very soon. Besides, our clients have been asking about the Tumblr service these past months," explains JP Bisson, Managing Director for Buy Real Marketing.
The Buy Tumblr Followers service has been finalized and the website is already up. Interested buyers can now check out the page to learn about the service. They can also check out other services such as Buy Twitter Followers, Buy YouTube Views, Buy Vimeo Views and Buy SoundCloud Plays.
Another expected addition is the Pinterest Likes that will be coming out soon. A lot more will be coming at Buy Real Marketing. All of these to provide more value to their clients and to attract more signups for the services.
Buy Real Marketing is a company that offers services that help clients grow their business through social media. Customer support is available 24/7 and services are offered with a 100% Money Back Guarantee.
To know more about the company's services, visit their website at http://www.buyrealmarketing.com or contact them at 1-877-435-5955.
About
Buy Real Marketing is owned by Clicking Labs. Clicking Labs is a well-established internet marketing company founded in 2010 by Jean-Patrick Bisson, Diana Quartin and Jonathan Kennedy. The company specializes in driving search marketing and social media traffic, social web app development and conversion optimization. Each product or service specifically helps small/medium website owners increase online visibility and improve online sales.
###