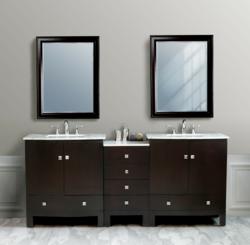 Orange County, CA (PRWEB) August 30, 2012
Luxury Living Direct, a premier online discount bathroom remodeling store with warehouses located across the United States, has just added two new products to its diverse line of luxury bath vanities and myriad other products. By adding the Virtu - Hampton 82" Double Bathroom Vanity and an array of Italian-made Amba Towel Warmers, Luxury Living Direct proves again that it will go to any length to provide the most stylish, elegant and superior products for their customers at highly discounted rates.
The Virtu - Hampton 82" Double Bath Vanity is nothing short of a chic pièce de résistance. Coming fully assembled with 4 doors and 6 drawers, its white marble countertop and deep espresso finish make this the signature piece that can work in virtually any modern bathroom. And, as with all of the company's bathroom vanities, it comes straight from the factory, meaning it is highly discounted.
Not stopping there, Luxury Living Direct has also added an array of Italian-made Amba Towel Warmers, which are diverse in design and are made with high quality heating elements to keep bathrooms mildew-free. Heating up in as little as 15 minutes, Amba Towel Warmers combine functionality with smart design to seamlessly integrate into any bathroom remodel.
"Have you seen the Virtu double bath vanity yet? It's remarkable!," said John Nguyen, the Sales Manager of Luxury Living Direct, noticeably excited about the new products. "Whenever we add new products to our catalog, it's a really big deal. We want to make sure we're only offering superior products at very discounted prices so we can give our customers more to choose from. With so many beautiful bathroom vanities and other products out on the market, our main goal is to offer a diverse line of high-end discounted products so anyone can turn their bathroom remodel into a mini luxurious paradise. Not to be overdramatic or anything, but it's true."
The bathroom remodeling online store has warehouses all over the United States and promises the fast processing of all orders and free shipping. The Virtu – Hampton 82" Double Bathroom Vanity and selection of Amba Towel Warmers are nothing short of brilliance in chic, contemporary design, and highlight LLD's continual pursuit of offering superior bathroom products.
About Luxury Living Direct
Luxury Living Direct is one of the largest online stores specializing in bathroom remodeling. The company offers a diverse collection discount bath vanities, double vanities and a slew of other bathroom products, including bathtubs, sinks, faucets vanity mirrors, cabinets, toilets and steam showers. All products are factory direct so customers are guaranteed highly discounted products, with free shipping included.
Luxury Living Direct prides itself on its customer service. Their products are in stock and processed within 1-2 business days, so customers can expect their purchases within 2-5 business days. LLD's 110% Price Match Guarantee speaks volumes of their discounted prices, as they will match the lower price of a product elsewhere and take an additional 10% off the sale price.