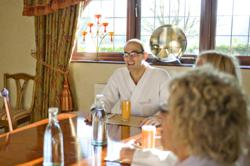 Big day today! I hit the 3 stone lost milestone and am frankly very pleased with myself, not to say a little bit smug.
Northamptonshire (PRWEB UK) 31 August 2012
Working towards a healthier lifestyle is not something limited just to ladies looking for the body beautiful. Looking after your body is something everybody needs to consider and weight loss for men is becoming a very serious issue. Figures from the World Health Organisation suggest 48% of male adults are obese and this impacts negatively on everything from their physical health to their fertility, as new research has discovered.
Reproductive experts at the University of Melbourne have just released research showing obesity can significantly affect the efficiency of sperm. This new research shows that it's just not women who need to get in shape when trying to conceive, men need to be healthy too. At Homefield Grange, the ultimate 7 Day Detox and Weight Loss Programme is designed to conquer those extra pounds and teach participants a healthier way to live.
Attending the programme at Homefield Grange gives participants a chance to enjoy the rural Nottinghamshire surroundings whilst working towards a fitter, healthier self. The 7 day detox programme is filled with classes covering nutrition, exercise and more. Daily exercise classes include non-impact sessions such as Yoga and Pilates, with specific fat-burning classes also scheduled.
The ultimate 7 day detox programme is available Monday to Sunday every week at Homefield Grange, Manor Road, Rushton, NN14 1RH. It's the perfect solution for weight loss for men and enhancing understanding of the best nutrition and exercise for the body.