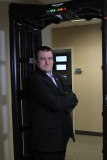 Terrorist groups are known to target airplanes, but they are also known to target airports...the need to secure airports is more important now than it ever was.
New York, NY (PRWEB) August 31, 2012
Airlines have been targeted for attacks since the early 1960s so it comes as no surprise that this trend is one that will never go away. As long as there are individuals and groups looking to make a headline for their cause, this mode of transportation will always be besieged. While lessons have been learned and security vastly improved, airways must always review, adopt and carryout new practices in order to keep the travelling public and themselves safe. Global Elite group calls this process Target Hardening which utilizes a best practices approach, along with technology and training of personnel to deliver a sound security plan. The company reviews and makes recommendations to its clients on a regular basis to keep a step ahead.
Terrorist groups are known to target airplanes, but they are also known to target airports. "The result of a successful attack against an airport has had a significant impact on the traveling public and effectively has the same results as an attack against an aircraft," explains William McGuire, President and CEO of Global Elite Group. The terror attack at Moscow's Domodedovo Airport in 2011 that killed 35 people, specifically cited lapses in airport security and found people could enter from anywhere. Most recently, Israeli security forces are concerned that Al-Qaeda is planning a large scale terror attack on Israel's civil aviation as reported by The Jewish Press.com on August 17, 2012. This report comes in the aftermath of the suicide bombing on a bus in Bulgaria on July 18th killing Israeli tourists. The terrorist is captured on video hours before in the airport terminal and again roaming around the buses just outside. The need to secure airports is more important now than it ever was.
Target hardening a location such as an airport requires intrusion detection technology, surveillance systems, biometric access control systems, ground personnel training and lighting all play a part in the security process. "There has been a positive impact on security at airports around the world since the introduction of this advanced technology," explained Victor Anderes, Executive Vice President, Global Elite Group. Anderes is also quick to point out technology should be part of the overall plan and not the only component relied on. "These systems only work if they are fully supported by an active and diligent group of security professionals trained to spot potential risks. The recent breach of security at New York's JFK Airport by a stranded jet-skier in Jamaica Bay is a classic example of reliance on technology with no human asset to back up the security system," stated Anderes. The perimeter detection system at JFK did its job by there was a lack of police mobilization which allowed the lost jet-skier to scale an 8-ft fence and walk across two runways.
The challenges faced in securing one airport are similar to challenges faced at many airports, the threat picture might change slightly but the actual modus operandi used is always similar in nature. "Good, solid security practices and thorough knowledge of the risks along with information sharing is the foundation of every program and works at multiple airports," Anderes said. Airport security is a key industry sector that needs continuous improvement as adversaries will always look for vulnerabilities in the security system.