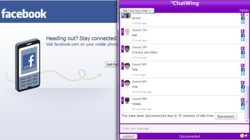 Boston, MA (PRWEB) August 30, 2012
The benefit of frequenting these forum boards is that it is accessed by a diverse and huge audience. As such, you get to read varying takes on a subject, allowing you to gather a more well-rounded set of information about the matters that are relevant to the readers. A person can benefit from forums in many different ways. Probably the most important is the exchange of ideas and information. There are forums on any subject imaginable from lawn mowers to products and services and everything in between. Some unique ideas come out of these open discussions. These forums are also a way to get to know people with similar interests from around the world.
Facebook has millions of users worldwide. Most users use facebook for personal reasons. This has become their venue to communicate with their friends and loved ones through one of the Facebook application – Facebook chat. It has also been popular for Facebook users to upload photos of their whereabouts and activities. Currently, users are inclined in using Facebook Status to tell the world how they feel at the moment, where they are, or just about anything under the sun.
Facebook has now been used as a marketing strategy for businesses. This provides them a venue to investigate and create a survey on how well their business is doing. Being able to reach to their customers and understand their needs is a great tool in improving products and services. These businesses also maintain forum boards to be able to connect with people from all over the world.
Integrating Facebook Statuses on forum boards will increase traffic on a specific forum site, because a real time stream of facebook status from all over the world is now made available by Statusreel. Imagine having a feed of information and ideas from forum visitors about a topic or product, and a real time feed of facebook statuses from all over the world – a vast amount of information is being created. This feature has become interesting to forum visitors as they can get enough information in just one site.
With Statusreel, forum admin has the option to search for status on facebook that is relevant to their site. This way, only statuses that is in connection with a specific discussion will be fed on the site. Also, having a stream of facebook status on a forum site will give forum admin an idea of a topic that is trending to number of users. Being able to tackle the most talked about topic will greatly increase traffic on a specific forum site.
About Statusreel
Statusreel.com is an application designed to provide users a real time feed of Facebook Statuses online. Users have the option to view specific theme of status. From funny status to emo status and all the other 19 categories of status on facebook. Statusreel real time feed of status maybe embedded to a wedbsite – a status box or widget, absolutely free!