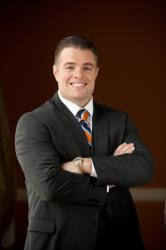 New York, NY (PRWEB) August 31, 2012
Henri-Alain Baniakina is expected to name Thomas Guerriero as special advisor to the HAB Foundation. Baniakina said, "Guerriero is an expert in economic issues and finance and can advise the foundation on growing and developing the HAB Foundation's ability to provide microfinancing throughout the Republic of Congo-Brazzaville."
About the HAB Foundation
The Henri-Alain Baniakina Foundation operates in the Republic of Congo-Brazzaville. The Baniakina Foundation derives its motivation from the urgent need to rebuild Congo-Brazzaville after two devastating periods of civil war since the late 1990s. Our mission is to empower the local populations in all regions of the country through microfinancing aimed at creating economic fairness and opportunity as well as developing resources for improved access to healthcare and education. The Foundation is dedicated to the utilization of unique ideas to improve the quality of daily life for the people of Congo-Brazzaville. Therefore, the Foundation hires local employees and builds schools and medical clinics for the benefit of the local communities. The Baniakina Foundation is led by President Henri-Alain Baniakina, a diplomat, who is Columbia and Harvard University educated.
About Thomas Guerriero
Thomas Anthony Guerriero is world renowned for being one of the most powerful and influential CEO's in the history of Wall Street. His financial advisor training program is legendary for creating some of the top producing financial professionals in the world.
​
Mr. Thomas Anthony Guerriero is currently the founder and Chief Executive Officer (CEO) of WMX Group Holdings, Inc. He has over fourteen years of extensive upper executive experience. Mr. Guerriero began his career in the financial markets in 1998, and soon thereafter earned the position of Senior Vice President of the securities division of First Union, one of the largest institutions in the world with over $400 billion in client assets. After First Union was acquired by Wachovia, Mr. Guerriero continued to build his client base and team through several institutions and think tanks, eventually etching his name in stone industry wide, by becoming the CEO of a Member Firm, TAA. There he gained the prestigious recognition of being one of the youngest individuals to ever head a member firm.
His success at TAA led him towards the second acquisition in his career, this time by High Point Capital. Mr. Guerriero's unique ability to create unique systems both technical and fundamentally, recruit, train, mentor, and inspire individuals through his creative methodologies has led him to be recognized as a global force to be reckoned with. His most recent acquisition was at the helm of Global Wealth as CEO. He was able to maximize profitability and surpass all expectations in the face of the toughest economic climate of our generation, leading towards the third acquisition of his career of Global Wealth and its Institute of Finance.

As one of the most talented minds and influential people in the world today he shows no signs in letting up. In 2011, he was nominated, accepted, and confirmed as one of the youngest inductions ever into Marquis's Who's Who in America. Also in 2011 Mr. Guerriero became one of the youngest owners of a professional sports team. He became an owner of a professional basketball team, the Springfield Armor in the NBA D league (The NJ Nets Affiliate). Mr. Guerriero attended Graduate School at Harvard University, holds two Graduate Certificates from Boston University & University of Notre Dame, has two BA degrees from Fairleigh Dickinson University & Thomas Edison State. He has held several professional licenses over the course of his career Series 7, Series 63, Series 66, Series 24 licenses. Always looking for a challenge Mr. Guerriero is a former professional soccer player, holds several world records, climbed two of the seven summits, been featured in a major motion picture with Oliver Stone, been featured on television around the world, and is a published author with "How To Understand & Master The Stock Market", "Understanding & Master Securities Laws And Regulations" and "Plan For Crisis".