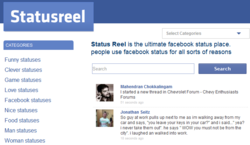 Seattle, WA (PRWEB) August 30, 2012
Seattle, WA - Facebook has been widely used social network; having millions of active users around the world. It is where anyone can create their own profile, find and make friends, exchange messages and it even has Facebook chat where users can communicate with their friends. Another feature of Facebook that users tend to love and like is the Facebook status. Facebook status is just like a shout out about anything and everything a person may have in mind and about how that person feels at that very moment. There are those people who find it very helpful because with Facebook status updates, they will be able to express whatever they feel and think. Facebook users take this opportunity to seamlessly tell everyone which includes his or her friends and loved ones the things he or she would want them to know. People tend to post various statuses for whatever reasons they have.
There are so many types of Facebook statuses which would include the sad ones, funny status, inspiring quotes and users can now access Statusreel which is named as the ultimate Facebook status place. Facebook statuses are now available in Statusreel and anyone can search and read for all their friends' and loved ones' posts. With Statusreel everyone could get the chance to search and find various statuses they are interested in. Its distinctive feature is that anyone may have the chance to like and share not only entertaining but inspiring Facebook statuses or anybody can simply view live statuses stream online.
With Statusreel, users simply enter a keyword or words and find what other people are posting on their Facebook status right at that very moment. With Statusreel you get to read others point of view and various emotions that they express through their Facebook status. It would be very easy for everyone as well to find Facebook status from different categories which includes funny statuses, those Facebook statuses which cover and talk about love, hatred, friendship, about food, and so many things that people can talk about under the sun.
People are really fun of learning from others point of view and other peoples' life experiences - Statusreel will give them a hand when it comes to searching for these various stories and posts through Facebook statuses. With just a few clicks you will be able to find several Facebook statuses that will make you laugh and even inspire you. You never know as well that there are some Facebook statuses out there that are really for somebody or which is just meant to see and read by anybody. If there is a need to search for Facebook statuses, access Statusreel and find the best Facebook status to read and enjoy.
About Statusreel
Statusreel.com is an application designed to provide users a real time feed of Facebook Statuses online. Users have the option to view specific theme of status, from funny status to emo status and all the other 19 categories of status on facebook. Statusreel real time feed of status maybe embedded to a wedbsite – a status box or widget, absolutely free.