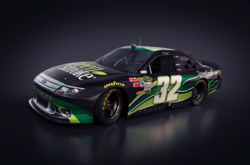 "It's an honor to help special causes like the Travis Manion Foundation, and to be able to drive the Green Smoke car." - TJ Bell
Mooresville, NC (PRWEB) August 30, 2012
Green Smoke® announced today that it will once again be sponsoring T.J. Bell's No. 32 Ford Fusion fielded by FAS Lane Racing in Sunday night's, Sept 2nd, NASCAR AdvoCare 500 at Atlanta Motor Speedway. In addition, as the anniversary of 9/11 approaches, Green Smoke® is honoring the sacrifices of our nation's uniformed men and women by donating the No. 32 car's quarter panels and TV panel to the Travis Manion Foundation, an organization that assists our nation's veterans and the families of fallen heroes.
Green Smoke® will advertise the Travis Manion Foundation's 9/11 Heroes Run logo on the No. 32 car's quarter panels. This is a run for charity with 50% of race proceeds being donated directly back to local 501(c)(3)'s that honor those who serve our country.
Bell's TV panel will offer another way to support the foundation, by encouraging viewers to donate $10 to the organization by texting "Heroes" to 27722.
"It's an honor to help special causes like the Travis Manion Foundation," Bell said. "Especially with the anniversary of 9/11 coming up, it's important to remember all that our service men and women contribute. I hope that everyone takes the time to thank them for all their sacrifices and dedication. We're excited to promote the 9/11 Heroes Run and hope that everyone can contribute to the cause."
"I'm also really excited to be driving the No. 32 Green Smoke® car again," continued Bell. "This is the 2nd year in a row working with them and I'm proud to drive the vehicle that showcases this company's excellent product. I got involved with Green Smoke because my dad, a chain smoker, couldn't smoke on the racetrack. He was desperately seeking an alternative to tobacco smoking but didn't want to give up the experience he expected from cigarettes. He is now a Green Smoke® user and has the freedom to smoke where I practice and race.
(Green Smoke® electronic cigarettes are devices that mimic that look, taste and feel of tobacco cigarettes. But instead of smoke, they only emit an odorless vapor. This allows smokers to use them in places where cigarettes are normally banned - including inside of a NASCAR event.)
"I'm very excited about this weekend," Bell said. "Atlanta's a fun track. I've always enjoyed going there. The speeds are crazy and it makes for some exciting racing. On top of that, we have some special guests coming from the Travis Manion Foundation. It's always an inspiration to meet the men and women who bravely serve our country, which has me really looking forward to Sunday."
The AdvoCare 500 will mark Bell's first Cup Series race at Atlanta Motor Speedway. Bell has one Nationwide Series start at the 1.5-mile race track. He started 29th and finished 27th.
The race starts Sunday night, September 2nd at the Atlanta Motor Speedway at 6:30pm. All of the action can be viewed on ESPN.
Click here to learn about everything Green Smoke is doing with NASCAR.
About Green Smoke
Green Smoke's commitment to innovation and customer care set them apart as the leading provider of electronic cigarettes. The company was founded to give smokers the smoking experience they expect and deserve from their cigarette, while enabling them to enjoy the freedom to smoke their cigarette where traditional cigarettes are banned. Because Green Smoke® electronic cigarettes produce no cigarette smells, they're not subject to most smoking bans. Their top-rated FlavorMax™ cartridges give smokers one of the richest, most enjoyable smoking experiences available, and in 2012 their customer care team was awarded the StellaService award of 'Excellent' for their outstanding service and commitment to customer satisfaction.
This international company is based in Miami, FL. and is the proud sponsor of TJ Bell in the 2012 NASCAR Sprint Cup Series.