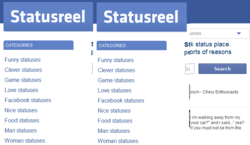 Miami, FL (PRWEB) August 30, 2012
There are millions of Facebook users worldwide. Facebook users share their personal information, whereabouts and photos. Facebook chat is a common application where friends and loved ones across the miles connect virtually. It has also been a common feature of Facebook to post status updates. These updates varies from personal details, emotions, events, opinions, ideas, and anything that anyone can think of. To some, being able to share what they feel or do at the moment is very important. It makes them closer to their loved ones even those who are separated by thousands of miles. People post all kinds of statuses for facebook.
By logging in to facebook account, users only see the statuses of their friends. With statusreel, users get to see the status feed of all facebook users around the world, real time! Users who are maintaining their own website have the option to add the status box to their account with 1 click. Since Facebook Statuses varies in so many ways, Statusreel was able to classify these statuses into 21 categories. If user only wants to read funny statuses, they just choose Funny Status category and so on.
Not only the creation of categories, with Statusreel, users have the option to search a specific word or topic for status feed. With this feature, users can narrow down the stream of live status from facebook to their desired topics.
Statusreel also widens the reach of users to meet and connect with new individuals whom they think are interesting through their status. We cannot deny the fact that through individual's status in facebook, we get a peek of their personality. We sometimes learn their likes and dislikes from their status in facebook. Users of statusreel can add up these users in their facebook account, like their status, or even repost the status that users like on their own wall. With the varied categories, users can post and share different types of status time and again.
Statusreel has a simple interface that makes it a stress-free application. To start using it, they only need their facebook log in credentials and does not require any other information. Adding this status widget on a website is very easy. Users just need to go to statusreel.com, and click add statusreel to your site. Right away, an embedded html code will be provided that is compatible to almost all types of blog platforms.
About Statusreel
Statusreel.com is an application designed to provide users a real time feed of Facebook Statuses online. Users have the option to view specific theme of status. From funny status to emo status and all the other 19 categories of status on facebook. Statusreel real time feed of status maybe embedded to a wedbsite – a status box or widget, absolutely free.