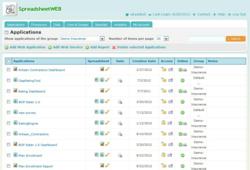 SpreadsheetWEB is a unique technology that helps the non-programmer create, collaborate, and manage web-applications in the cloud
Cambridge, MA (PRWEB) August 30, 2012
The support and development of web applications is a critical function in any organization. Traditionally, business units request application developments from their IT departments. As organizations scramble to keep pace with the changes in mobile and social networking technologies, their IT departments face an ever increasing workload and keeping up with application development and support is often impossible. This causes business units to search for other alternatives, like outsourcing or building their own applications.
SpreadsheetWEB empowers business users to develop their own web applications without any programming experience. Through an intuitive interface, business users can create secure, database driven, workflow enabled, web-based applications and deploy them in the cloud. A browser-based administrative interface allows for the management of those applications. SpreadsheetWEB also incorporates role-based access controls, so that access to individual applications and records can be restricted to authorized users.
"SpreadsheetWEB is a unique technology that helps the non-programmer create, collaborate, and manage web-applications in the cloud," said Ugur Kadakal, Ph.D., CEO of Pagos. "By no means does SpreadsheetWEB attempt to replace IT departments or handle the development of very complex applications. However, the majority of application development tasks in any organization are small to medium size projects. These projects usually get postponed or cancelled, whether due to the lack of resources or the need to focus on higher priority items. Since SpreadsheetWEB can help business units complete these projects quickly and cost effectively, it is an invaluable technology for companies that need to get more done for less."
About Pagos, Inc:
Pagos is a leading technology and IT services provider, delivering software solutions and IT consulting services to clients in various industries. Pagos solutions empower companies to simplify application development and maintenance by making business users active participants in the process. This enables business and IT units to focus on their core business roles to drive innovation. Pagos is located in Cambridge, MA. For more information, visit http://www.pagos.com.