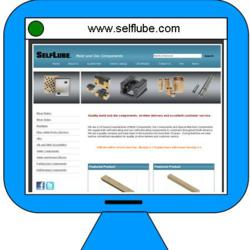 Being able to make the necessary changes to files and being able to upload them almost immediately, will be a beneficial advancement for not only the company, but for the customers as well
Coopersville, MI (PRWEB) August 31, 2012
Mold and die component manufacturer, SelfLube has over 8,000 different part numbers including wear plates, wear strips, bushings and many more - a whole lot more. Customers and prospects visiting SelfLube's website are able to easily download 3D solid models for its products. Most of the product line offers five different formats to choose from. In order to better serve its customers and to compete with the competition, SelfLube is currently in the process of upgrading it's website.
Online visitors are not to be alarmed, these changes will not affect the appearance of the SelfLube site or the user-friendliness. Instead, the upgrade is more internal, making it easier to upload new information as it becomes available. This includes:

Product information
Changes in 3D models (specs, dimensions, etc)
Parts added to the catalog
Discontinued items
With an ISO 9001:2008 certification, SelfLube is constantly improving and always looking for ways to better meet customers' needs. SelfLube Marketing Specialist, Jordan Fifelski explains, "With such an extensive product line, there is a greater need to maintain the latest information with our product CAD. Customers are always downloading files and we want to make sure we are on top of getting them the right information." The upgrade SelfLube's website is undergoing will allow the marketing department to upload information almost instantly and thus providing the proper information to customers more efficiently. Changes are scheduled to be complete by the end of September.
SelfLube has been in business for over 20 years. Most of its product line is made of solid aluminum bronze and with or without self-lubricating graphite. Though SelfLube is a smaller company, it competes with some of the larger corporations in the industry. "Being able to make the necessary changes to files and being able to upload them almost immediately, will be a beneficial advancement for not only the company, but for the customers as well," says Fifelski.
SelfLube is a US based manufacturer of mold and die components such as bushings, gibs, wear strips, parting line locks, lifter slides and related items - 8,000 standard part numbers in all, many of which are self-lubricating. The company sells direct to build shops throughout North America and Canada, which results in both better pricing and better customer service. Its record for on time delivery is among the best in the industry.