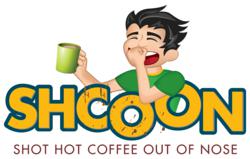 Over the years gag gifts have become a staple of gift giving.
Boston, MA (PRWEB) August 30, 2012
The annual list of top gag gifts was announced today by the popular Internet gift purveyor Shot Hot Coffee Out of Nose (shcoon.com). Among this years top gag gifts is the "Annoyatron" which is a tiny electronic gadget that emits an ear-piercing sound to its unsuspecting victim. Also on the list is the Television Remote Control Ninja which is a pocket-sized tool that allows you to tap into virtually any television and control the channel and volume. This specific gift is great when you're out at a bar or restaurant and don't like what they're showing on their television sets.
Over the years gag gifts have become a staple of gift giving. To qualify for this year's contest each product had to be priced below $40 and had to have three important criteria; humor, utility and an element of surprise.
"We're thrilled with the breath and depth of this year's winners" said Chet Dickfield, editor of Shot Hot Coffee Out of Nose. "Shcoon.com prides itself on carrying the funnest gifts on the Internet. You won't be able to find these unique gifts in many brick and mortar shops and they are sure to delight the recipient."
The full list of Top Gag Gifts for 2012 is as follows:
1. Annoyatron
2. TV Remote Control Ninja
3. USB Phantom Keyboard Prank
4. Electronic Gold Fish in a Bowl
5. iPod Dancing Dog and Cat Speakers
6. "I Would Cuddle You So Hard" t-shirt
7. Wind-up Racing Grannies
8. Emergency Underpants Dispenser
9. Talking Toilet Paper Roller
10. Trick Ball Filled with Helium
Shot Hot Coffee Out of Nose is the Internet's largest purveyor of unique and funny gifts for all ages and all occasions. The editors of Schoon.com search the world to bring you the best new gadgets, gizmos and toys that you never knew existed.
To see hundreds of the funniest products online visit the website at shcoon.com.