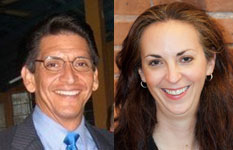 I am so excited to be joining Bruno and Interactivity for Sales to provide my current and future clients even more solutions to drive more sales and grow their businesses.
Charlotte, NC and New York, NY (PRWEB) August 30, 2012
This c-level department position will lead and direct services in a wide range of areas relating to client internet and website research, planning and development, including the handling and directing of all related Social Media, Video and Mobile Marketing services & solutions. In addition to this new role, Ms. Susman will continue to serve as President of Sus4Media, Inc., a local internet marketing consultancy which she founded in 2010. She is a Certified Social Media Strategist and a Local Internet Marketing Consultant with specialties including search engine optimization, article and blog marketing; video marketing including video email and blog distribution; mobile marketing and all social media marketing.
After over 15 years in Human Resources, Mandi Susman began professional internet marketing and website development in 2010 to help small, local businesses in her neighborhood thrive, not just survive, in this turbulent economic climate. Since signing her first client, she has grown to provide search engine optimization, social media marketing, video marketing, mobile and text marketing to small and medium sized businesses from coast to coast.
Mandi's first book, "Trade Secrets for Marketing Your Business Online" can be purchased through Amazon.com. Mandi and Sus4Media have worked closely in support of Senator Kirsten Gillibrand's advocacy of the Small Business Start-up Support Act announced on August 20 which was covered by most major news outlets in New York City including the Daily News.
Newly added social media clients include the Sunshine Bronx Business Incubator, The Cheni Group, and Mark LaPico, the Executive Chef for Jean Georges, one of the few New York Times rated four star restaurants in New York City.
Interactivity for Sales® is a Multi-Industry Advertising, Sales, Marketing & Phone Marketing Solutions Company based in Charlotte, NC and which services the needs of current and future clients in a variety of diverse areas and industries in and throughout North America and Australia.
The goal and vision of Interactivity for Sales® is now being realized and will grow into an industry leader as a full service multi-divisional company providing a suite of Multi-Industry Advertising, Sales, Marketing & Phone Marketing Solutions including, but not limited to, each area listed below.
The core idea and founding philosophy or company culture of this new and thriving company is encapsulated in the following quote by Alan Greenspan: "I have found no greater satisfaction than achieving success through honest dealing and strict adherence to the view that, for you to gain, those you deal with should gain as well."
We will as individuals in and with this company work to achieve success through honest dealings and strict adherence to the view, principle and understanding that for us to grow and gain, those we deal with and work for will grow and gain as well.
Among other specialties (within and for the Restaurant Industry and other areas for example) Interactivity for Sales® provides the following services:
Flyer/Coupon/Door Hanger Distribution, Printing and Delivery Services (Multi-Industry and highly customized and proven effective Street Team Campaign Planning, Consulting and Implementation Services)
Direct Mail (Campaign Development, Printing and/or Mailing – Full Service or as needed)
Full Service/Turnkey Media & Campaign Ad Development, Placement, Buying and full range of Multi-Media Advertising Agency Support Services (i.e. creative for radio, TV, print, etc.)
Internet, Website & Social Media Consulting, Marketing & Development
Multi-Industry Professional Phone Marketing (sorry, we don't do or offer "telemarketing" services and neither do we sell "leads.") We provide, develop and implement professional phone marketing programs that generate real time "sales opportunities" for multi-industry businesses, owners and professionals to provide you and your staff multiple and repeat sale, cross sale and up-sale opportunities to increase the average revenue or sales per customer or client.
Contact Bruno (direct: 704-941-5580) or Mandi (direct: 646-285-4678) for more information or to see what we can do to help your business grow through our targeted sales and marketing needs-based solutions for you and your bottom line.