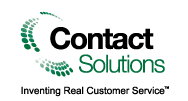 Reston, VA (PRWEB) August 30, 2012
Contact Solutions, a leading provider of cloud-based customer self-service solutions, today announced that it was named to Inc. Magazine's annual 500|5000, an exclusive ranking of the nation's fastest growing private companies. Contact Solutions enables truly personalized customer self-service solutions for the call centers supporting companies across a variety of industries. With a focus on continuous improvement, Contact Solutions guarantees clients that its cloud-based customer self-service offerings will both improve the customer experience and lower operating expenses.
Last year Contact Solutions experienced growth in each of its target verticals, led by financial services, healthcare and government markets. Additionally, the company now provides customer self service to more than 20 million prepaid card users.
"Recognition from the Inc. 5000 is a testament to our strong growth and ongoing commitment to innovation in customer self-service solutions for clients across many industries," said Paul Logan, Contact Solutions President and CEO. "We expect continued growth into the future as we continue to help businesses of all types to lower operational costs while simultaneously improving customer satisfaction."
The Inc. 500|5000 is in its 6th year, and is comprised of the top companies and independent entrepreneurs from across the country. Contact Solutions joins Yelp, yogurt maker Chobani, Giftcards.com, KIND and famed hat maker Tilly's, among other prominent brands featured on this year's list.
"Now, more than ever, we depend on Inc. 500|5000 companies to spur innovation, provide jobs, and drive the economy forward. Growth companies are where the action is," said Inc. Editor Eric Schurenberg.
For more information on Contact Solutions, please visit us at http://www.contactsolutions.com.
###
About Contact Solutions
Contact Solutions invents real customer service. Our patented technology, optimized solutions and culture of continuous improvement deliver a more personalized customer experience. Guaranteed.
Our Continuous Improvement Methodology™ has improved the customer experience for every client — with an average CX rating increase of 27.4% — while lowering costs. This unique model quantifies the customer experience, enabling our clients to continuously improve performance and achieve ROI, year after year. Contact Solutions is one of the top five largest hosted IVR providers in North America and the recipient of the Frost & Sullivan Product Differentiation Award. For more, visit http://www.contactsolutions.com.
About Inc.
Founded in 1979 and acquired in 2005 by Mansueto Ventures, Inc. is the only major brand dedicated exclusively to owners and managers of growing private companies, with the aim to deliver real solutions for today's innovative company builders. Total monthly audience reach for the brand has grown significantly from 2,000,000 in 2010 to over 6,000,000 today. For more information, visit http://www.inc.com.
About the Inc. 500|5000 Conference
Each year, Inc. and Inc.com celebrate the remarkable achievements of today's entrepreneurial superstars—the privately held small businesses that drive our economy. The Inc. 500|5000 Conference & Awards Ceremony brings together members of the Inc. community, both a new class of Inc. 500|5000 honorees and the list's alumni, for three days of powerful networking, inspired learning, and momentous celebration. Please join us October 3–5, 2012, at the JW Marriott Desert Ridge Resort & Spa in Phoenix, Arizona. For more information about the 2012 Inc. 500|5000 Conference & Awards Ceremony and to register, visit http://www.inc500conference.com or call 866-901-3205.