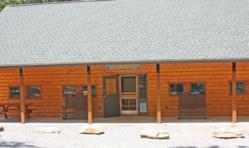 It is nice to mentor somebody.
Hershey, PA (PRWEB) August 30, 2012
The iconic "Camp Milton" at Milton Hershey School has taken on a whole new look. It's no longer the spare, rustic campsite of years past. As you approach the cabin, you quickly notice that the camp – used as an experiential outdoor learning environment – has undergone some improvements that go far beyond a fresh coat of paint.
A ten-month renovation project resulted in a laundry list of impressive upgrades. It also marked a first-of-its-kind collaboration between the MHS Student Carpentry Class, under the supervision of teacher Rich Mattis, and various Trades from the School Facilities Program. Structural Trades, Mechanical Trades and the Grounds Department all had a hand in the project.
Pairing students with the School's own internal tradesmen was a "win-win" according to Mark Winters, Director of Facilities. "The chance for our employees to participate one on one with the students, teaching them the skills of their specific trades would create a working classroom," Winters explained.
Starting in October 2011, students worked a couple of hours each afternoon assisting the various tradesmen. Students and staff rebuilt the old camp from the ground up. They dug foundations, poured concrete, built new walls, installed a new roof, and did a complete upgrade on interior and exterior finishes. Days passed and their efforts gave way to a much larger camp that grew by over 1000 square feet. The most significant additions were new student/staff bedrooms and bathrooms and a modern kitchen.
The bedrooms now provide all the comforts of home. The bathrooms are fully functional with toilets and individual showers. The kitchen was totally redone, with some new additions that would make the best of chefs envious.
Students have often worked with contractors in the past, as part of Milton Hershey School's effort to get students on-the-job training to hone their skills. This project took that concept a step further and helped to build some solid and lasting friendships.
John Osmolinski, Senior Director of Facilities and Trades, believes that pairing up with students was just as beneficial to the adults working on the project. "It's really special to see the kids work with the tradesmen. Our Trades personnel loved it. We don't have a lot of chances to work directly with students. It is nice to mentor somebody."
Besides the hands-on experience they gained, students learned a secondary lesson – but an important one which should serve them well on future jobs. "You learn how to work together with folks you don't know," explained Justin Klein, a student who worked on the project.
Senior C.J. Stitt, who plans to attend Clarion University to major in Business, said it was a good experience because one day he hopes to own his own construction company. "I got a lot of knowledge and gained leadership experience. I was able to take charge of some projects. I got to learn from my mistakes and learn how to get a job done and be proud of it."
It was in 1952 when students and teachers from the metal shop, electrical, carpentry, and plumbing shop built the cabin. Sixty years later, MHS students are still learning valuable skills and taking pride in a hard day's work. A shining, new camp is just an added benefit to all of those hours of hard work.