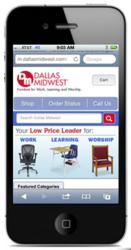 We want to give Dallas Midwest customers a good shopping experience no matter how they come to us.
Dallas, Texas (PRWEB) August 31, 2012
Dallas Midwest, a catalog and web retailer of furniture for work, learning and worship, has optimized its website for mobile devices like smart phones, iPads and other tablets. Dallas Midwest improved its website after observing a significant increase in mobile traffic over the last year.
Dallas Midwest web customers will be able to view and shop for products such as chairs, tables, desks, audio-visual products, stages and display products easily, from any location, using a tablet or web-enabled phone device. For customers using tablets such as the iPad, the experience will change based on whether the tablet is held in a vertical or horizontal position.
The new mobile platform detects which operating system the customer is using so that the shopping experience is customized to each person's device. They receive full website content, including advanced search capabilities, multiple product views, color selections, and a complete shopping cart and safe purchasing capability. In addition, Dallas Midwest's mobile site makes it easy for customers to track their orders.
Steve Fry, Vice President of Information Technology for the company, said that navigating a typical website on a mobile device — especially smart phones — can be frustrating due to smaller screen sizes. Dallas Midwest worked to optimize its site for all mobile devices, making the shopping experience much better.
"We developed two different experiences— one to accommodate mobile phones and another for larger mobile devices like iPads," said Fry, "Now, no matter what device our customers use, from desktops to tablets to phones, they will have complete product access, easy navigation and secure purchasing within an interface that's customized for the size and shape of their screen."
"We want to give Dallas Midwest customers a good shopping experience no matter how they come to us," said Dallas Midwest General Manager Teresa Darden, "Our mobile site is consistent with our catalogs and website: an easy-to-use connection that helps people find great values on furniture for their facilities and institutions."
# # #
Dallas Midwest is the low price leader of "Furniture for Work, Learning and Worship," providing competitive pricing and unsurpassed service for institutions, schools and churches across the USA. Established in 1950, Dallas Midwest has continued to build an impressive selection of products including student desks and chairs, tables, church seating and audio/visual equipment.
Dallas Midwest has become a favorite supplier by offering same-day shipping on hundreds of items, providing a 15-year guarantee on all products and offering discounts for volume purchases and prepayments. Visit http://www.DallasMidwest.com to view the complete selection of products or to order a free catalog.