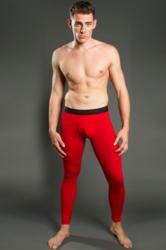 Long Johns are now considered fashionable aswell as practical.
(PRWEB UK) 31 August 2012
Long johns are very much back in fashion for the coming season, and men's underwear and swimwear specialists http://www.deadgoodundies.com are looking forward to booming sales, alongside boxers, briefs and thongs, of course.
Founding Partner Adam Davies says long johns are now considered fashionable, as well as practical, for colder months.
"Deadgoodundies has already lined up numerous long johns from famous brands like Jockey and Doreanse. We have classics in black or white, in cotton and manmade yarns designed to keep men cosy and comfortable. But we also have bright red and great plaid patterned long johns," says Adam.
While full length underwear is never going to sell at the same rate as the website's briefs, thongs, boxers and shorts, men are starting to wear them as an alternative to loose lounge pants around the house.
"A pair of long johns and a good T-shirt can look very stylish, and they're great for sleeping in, too," Adam agrees.
Deadgoodundies also has yet another alternative body-warming style for men who don't want full leg coverage - the body. Several brands have created all-in-one styles combining the shape of shorts with a top in one smooth piece.
Designs from Joe Snyder, Doreanse and Body Art include short-sleeve, sleeveless, zip front, plain or button front shorts-and-top looks in black, white or a nude skintone. There are also more daring (and skimpy) one-piece undies in bright colours and animal prints.
But perhaps the ultimate onesie on DGU is the Alexis Mabille Drageur All In One, created by the French designer for HOM in exquisite cotton.
Company Information
Deadgoodundies is an online only retailer stocking the best in designer men's underwear and swimwear from all over the world including, in alphabetical order, Big Boys, Body Art, Bruno Banani, Bum-Chums, Clever Moda, Doreanse, Ergowear, Gigo, Gregg Homme, HOM, James Tudor, Jockey, Joe Snyder, MaleBasics, MANstore, Mey Bodywear, Mundo Unico, Nils Bohner, Obviously For Men, Olaf Benz, Pikante, PUMA, Sloggi, Solar TanThru and Zoggs. DGU also stock selected loungewear, socks, T-shirts and more from their best selling brands.
DGU are incredibly media friendly and always have high res images on hand for fashion pages and samples for photoshoots as well as expert comment and market insight from partners Adam and Jane.
For more information contact Jane DGU PR on 01743 271615 (international +44 1743 271615) or email pr(at)deadgoodundies(dot)com.