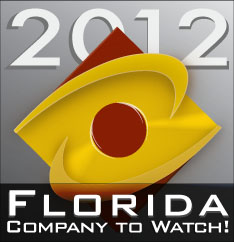 Tampa, FL (PRWEB) August 31, 2012
ReliaQuest, LLC has been recognized as a recipient of the 2012 Florida Companies to WatchSM award, an honor presented by the Florida Economic Gardening Institute (GrowFL) at the University of Central Florida. In its 2nd year, Florida Companies to Watch is presented by SunTrust Banks and the University of Central Florida in association with the Edward Lowe Foundation and with special support from the Florida Department of Economic Opportunity. Fifty companies from across the state of Florida will receive their recognition at an awards gala on Friday, October 19 at the Rosen Shingle Creek Resort in Orlando, Florida.
Florida Companies to Watch is an awards program that celebrates privately held second-stage companies headquartered in the state. To be eligible, applicants must employ between 6 and 99 full-time equivalent employees and have between $750,000 and $50 million in annual revenue or working capital in place. Awardees are selected for demonstrating the intent and capacity to grow based on employee or sales growth, exceptional entrepreneurial leadership, sustainable competitive advantage, outstanding corporate culture, inspired community giving and other notable strengths.
Among the honorees in 2012 is ReliaQuest, LLC.
ReliaQuest, LLC is an information security solutions and project consulting company based out of Tampa, Florida.
About second-stage businesses and Florida Companies to Watch
Florida Companies to Watch is unique because of its focus on second-stage companies and the wide-ranging industries they represent. The impact of these companies on Florida's economy is immense, and this year's honorees are examples of such companies in the state. During 2007-2009, Florida's resident companies averaged more than 110,000 second-stage establishments according to YourEconomy.org, an online resource of the Edward Lowe Foundation. Those second-stage companies employed nearly 2.5 million workers.
Looking at the contributions of these companies, nearly 6 percent of Florida's resident establishments were in the second-stage category, however, they generated 31 percent of jobs in the state.
Founded in 2007, ReliaQuest, a Tampa, FL based company, with offices in Baltimore and Jacksonville, provides information security solutions and project consulting services to government and commercial markets. For more information on ReliaQuest, please visit http://www.ReliaQuest.com or email us at pr (at) reliaquest (dot) com.
For more information: http://www.Florida.CompaniesToWatch.org and http://www.YourEconomy.org.