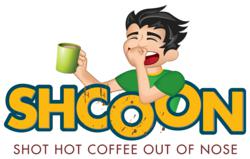 We're thrilled with the quality and uniqueness of this year's winners
Boston, MA (PRWEB) August 30, 2012
Shot Hot Coffee Out of Nose, the popular Internet purveyor of the most unique gifts in the world has announced its annual list of the best Christmas gifts for 2012. Among the top gifts this year are the amazing new iPhone video glasses for $107.99 which allow you to watch your favorite videos in private on a virtual 60 inch screen. Also making the list was the Atari arcade gaming system at $49.99 that allows you to connect your iPad and play retro style Atari games complete with a joystick.
"We are thrilled with the quality and uniqueness of this year's winners" said Chet Dickfield, editor of Shot Hot Coffee Out of Nose. "When you do your Christmas shopping this year you will be hard pressed to find a better assortment of unique gifts than those curated on our popular website."
Shcoon.com carries hundreds of the most unique and fun gadgets, gizmos and toys available anywhere in the world.
The complete list of Top Christmas Gifts for 2012 is as follows:
1. iPhone Virtual Video Glasses
2. Atari iPad Arcade Console
3. Air Guitar with Laser Strings
4. Remee Mind Control Dreaming Mask
5. Retro iPhone Rotary-style Headset
6. Fog Ring Blaster
7. NFL Logo Toasters- creates team logo on the toast
8. Beer Box Cowboy Hat
9. iPhone Pinball Magic Console
10. Polly the Insulting Electronic Parrot
Notable for the 2012 list of top Christmas gifts are the number of Apple related accessories. "Apple related products are clearly the big winners this Christmas season. Said Dickfield. "With the proliferation of the iPhone and iPad there are many creative companies working to launch products compatible with the Apple hardware. Visit shcoon.com to see many more Apple-related products and other unique gifts for this holiday season."