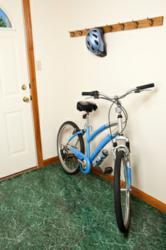 One of the areas where home insurance can differ greatly from cycle insurance is Third Party Liability
(PRWEB UK) 30 August 2012
Here at CycleInsurance.co.uk we provide stand alone specialist cycle insurance policies. We know that one of the common questions about cycle insurance is "Is my bicycle covered by my home insurance?" This can be a tricky question, and unfortunately there is no simple straightforward answer.
Largely, it depends firstly on the home insurance type and provider. Some home insurance will automatically cover cycles if they are stolen from the home address, and some will also cover them as standard under the cover for items outside of the home address. Others will not cover them at all either at the home address or elsewhere.
One of the common areas where a home insurance can differ greatly from cycle insurance is the Third Party Liability section.
Sometimes with home insurance, the public liability cover does not apply when actually cycling, or may not be included at all depending on the insurer. This cover is an important part of cycling as injuries to another person or damage to property, such as a vehicle can be very expensive. Third Party Liability cover can help pay towards the legal costs. If a home insurance policy does not cover this, damage to someone's brand new car, or an accidental collision with a pedestrian could result in a hefty legal bill.
Regarding theft, if the cycle is covered under the home insurance at the home address, this cover does not always extend outside of the main property, such as if the cycle is stolen from a garage, shed or outbuilding. There are often extra minimum security restrictions that need to be adhered to for a claim to be valid as well. These often apply to Cycle Insurance as well so be sure to read all relevant policy documentation.
One thing that home insurance certainly won't cover is a cycle breakdown policy. These are available as upgrades for some specialist cycle insurance policies, and mean that after receiving a puncture or damage which renders the bicycle un-ridable, or if the cycle is stolen, transport can be arranged back to the home address with the bicycle so that it can be repaired.
Generally, specialist cycle insurance policies will be more comprehensive and offer more suitable cover than home insurance policies. Adding a bicycle to a home insurance policy could incur an additional charge, which will vary depending on the home insurance provider and the value of the bicycle. It is worth comparing this additional home insurance cost to the cost of specialist bicycle insurance, especially in the case of higher value bicycles which are often not acceptable on home insurance, as most home insurance providers have a maximum insured value for pedal cycles. It is also worth comparing exactly what is covered by each policy, as it may be the case that for a minor difference in cost, specialist cycle insurance may offer far more comprehensive cover than home insurance.