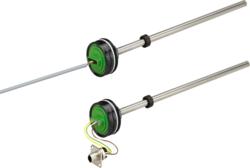 (PRWEB) August 30, 2012
MTS Systems Corp., Sensors Division, today introduced the Temposonics® MH-Agri magnetostrictive linear position sensor for in-cylinder measurement. The MH-Agri (identified by the green lid) was developed for large agricultural vehicle projects where specific product specifications are required. While offering the benefits needed in this specific market, it offers the same technology available in Temposonics Model MH sensors.
The primary features of the MH-Agri are:

12VDC power supply
0.25 VDC to 4.75 VDC output
10 mm pressure resistant sensor rod
300 bar operating pressure, 400 bar pressure spikes
50 to 1000 mm stroke range
50g shock, 15g vibration rating
EMC tested to ISO 14982
MTS proprietary M12 connector system for IP 69k when installed in cylinder
The MH-Agri provides customers with a cost-effective solution for their position sensing requirements. MTS Sensors accomplish this by optimizing the electronics, offering specific features and meeting the strict requirements of the agricultural machine market.
Using new production processes and automation allows us to manufacture this sensor in large quantities at optimized costs. Manufacturers of agricultural equipment will now be able to replace rotary, potentiometric, angle sensors and proximity sensors with highly reliable absolute, non-contact magnetostrictive technology – embedded within the cylinder for even longer life. This significantly reduces warranty and service costs, as well as improves the overall reliability of the machine.
For more information on MTS Sensors, please contact: Hub vom Berg, MTS Sensors Division, 3001 Sheldon Drive, Cary, NC 27513. Phone: (919) 677-2370. E-mail hub(dot)vomberg(at)mts(dot)com or visit http://www.mtssensors.com.
MTS Sensors, a division of MTS Systems Corp., is the global leader in the development and production of magnetostrictive linear-position and liquid-level sensors. Based on MTS' Temposonics® technology, the Sensors Division is continually developing new ways to apply magnetostrictive sensing technology to solve critical applications in a variety of markets worldwide. With facilities in the U.S., Germany, Japan and China, MTS Sensors Division is an ISO 9001-2008 certified supplier committed to providing innovative sensing solutions.
###