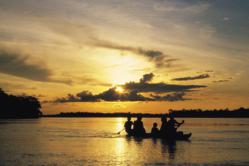 December is a month when everyone wants to get away, and exotic destinations are terrific for places to create unique memories.
Helena, AL (PRWEB) August 31, 2012
While exotic travel in December is often marked by holiday surcharges, International Expeditions is giving adventurers two ways to save by offering a $750 per person discount or waiving the single supplement fee on December 21 and 28, 2012 Amazon River cruises. These rare holiday savings opportunities mean travelers can wrap up savings of up to 44 percent while treating themselves to an authentic adventure in the Peruvian Amazon.
"December is a month when everyone wants to get away, and exotic destinations are terrific places to create unique memories," said IE President Van Perry. "I hope people can take advantage of this offer to experience the Amazon – a place International Expeditions has loved for 32 years."
Guests on IE's Amazon expedition cruises escape the hustle and bustle of the holiday season while experiencing all of nature's gifts as they drift down the planet's mightiest river aboard an intimate, purpose-built riverboat. Accompanying the journey, IE's accomplished Peruvian expedition staff and crew ensure travelers enjoy a penetrating look into the local river cultures as well as help guests spot the most wildlife possible.
"I am amazed at the knowledge and experience your naturalists had," said Amazon cruise guest Ellen Lynch of Fort Pierce, Fla. "The joy they shared was magical. They are dedicated to their country and the rainforest habitat. Guides Segundo, Johnny and Renzo make sure your adventure is great from the moment you land to the moment you leave."
Guests on the 10-day Amazon expedition cruise travel more than 600 miles into the narrow tributaries of the Amazon aboard the 24-passenger riverboat Aquamarina, enjoying chances of rare wildlife sightings. Daily outings on this small-ship adventure take travelers deep into the Pacaya-Samiria National Reserve to spot diverse wildlife and even fish for piranha. For an extra dash of winter-themed fun, guests should watch the jungle skies for red-and-green macaws, snowy egrets and festive parrots.
Prices for 2012 Amazon River expedition cruises start at $3,898 per person, and include accommodations, excursions, complimentary laundry aboard Aquamarina, most meals, guides, transfers, and tips to porters and waiters for included meals. The waived single supplement fee and $500 savings cannot be combined.
For more information or a brochure on the Amazon River cruise, call International Expeditions at 1-800-234-9620, e-mail nature (at) ietravel (dot) com, or visit http://www.IEtravel.com.
Celebrating 32 years of nature travel, International Expeditions specializes in small-group journeys to Earth's most exhilarating destinations. A pioneer of environmentally responsible travel, IE is committed to preserving natural habitats and improving the welfare of the people and communities it visits. International Expeditions has been named seven times to Travel + Leisure's list of "World's Best" tour operators & safari outfitters and to National Geographic ADVENTURE magazine's list of "Best Adventure Travel Companies on Earth."